"This Volvo digger would make a cracking central defender," says Trevor. "It looks like it could easily destroy the others on the pitch."
Brian Clough paid a then record-breaking £1m to take Trevor Francis from Birmingham City to Nottingham Forest in 1979 – money repaid when Francis scored the winning goal in the European Cup final that year. He went on to play for England, scoring 12 goals in 52 appearances.
These days, he runs Francis Homes, a house-building business, in partnership with his eldest son Matthew. While Matthew is responsible for the day-to-day aspects of the business, Trevor (now 63) applies himself in a managerial role. Younger son James also works in the company.
The new excavator purchase represents the company's first step towards expanding its house-building operation, as it looks to take more control of operating costs and make greater use of its own resources.
It is not the first time Trevor Francis has been the manager of a business – after his playing days were over he managed Birmingham City and then Sheffield Wednesday.
Francis Homes is currently working on two exclusive developments in and around Birmingham, where it is building multiple luxurious family homes worth in excess of £1.5m each, over the next two years.
While the business has been growing, its heavy machinery needs have been met by hiring. But the progression of the business to a premier league housing developer has enabled the father-and-son team to invest in its first excavator.
"Having our own midi excavator permanently on-site means we can take advantage of its capabilities without having to consider short-term hire costs," explains Matthew Francis.

"I did look at an eight-tonner, but settled on a five-tonne machine simply because of its dimensions," he said. "Its compact size means it will be easier to move between sites than a larger machine, and it has enough power to pull footings and carry out other odd jobs on site."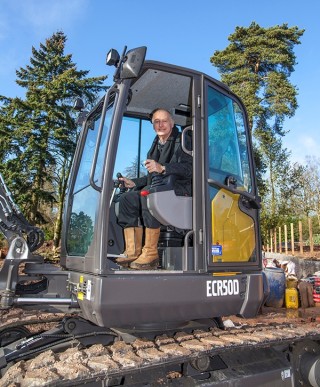 The ECR50D is Volvo's first true five-tonne excavator, replacing the ECR48C. Compared to its predecessor, the ECR50D packs extra weight and brings a longer under carriage offering better stability, which means a 1.8-metre 'long' dipper arm becomes standard fitment.
Supplied with four buckets and equipped with a hydraulic quick-coupler, Francis Homes' ECR50D will be used for footings, grading, landscaping and general duties on site.
"While we will continue to hire-in much larger machines for short-term heavy work and site clearance, having our own excavator gives us a little more on-site capability and much greater operational flexibility," says Matthew. "We'll probably add a breaker in the near future and perhaps an auger, to go with the selection of buckets that came with our ECR50D."