It is often said that the best machine operators are the ones who get the chance to learn the trade in their formative years, for many of us from this generation, it was quite simply the natural thing to do, either by going to work with our fathers or even just taking to the controls as and when we were needed and when the opportunity arose. Luke was often to be found on site from the age of 13, operating a Massey Ferguson 450S hydraulic excavator, and it was during this vital time that Luke learned all the tricks of the trade.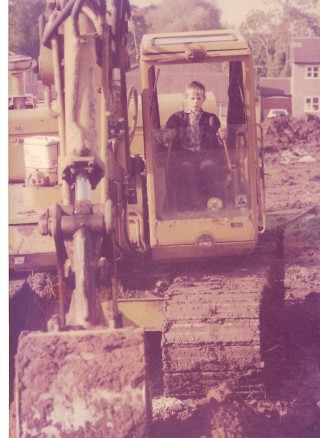 Luke has now been in the plant game for some 32 years, but still recalls his time back in 1980, on the Massey 450S with great fondness. The 450S although looking rather crude by today's standards, was at the cutting edge of hydraulic excavator technology back then and were popular with operators and end users back then. They were based on the Italian Beltrami excavators, from whom MF had bought the manufacturing rights from in 1968. The machine weighed in at 15.6 tonnes and was powered by an 88hp Perkins A6.354 6 cylinder engine. I have never operated one myself as they were not that common around the Hampshire area where I grew up, but I have been told they were impressive diggers with plenty of grunt.
After leaving school Luke continued with his passion for plant and machinery, working for local plant hire and contracting company K & A.E. Moore, and was eventually rewarded with his first ever brand new machine, a JCB 3CX Turbo Sitemaster model, which is seen here being delivered to its first job on the construction of the Okehampton bypass, which started in November 1986. The bypass was a big job in this neck of the woods, and main contractor Mowlem, made good use of the many local plant hire companies. With some 850,000m3 of excavation required it kept some big kit occupied throughout the duration of the works.
Sometime later Luke took on the drive with another new machine, this time a 20 ton class, Fiat Hitachi FH200-3, owned by K Moore & Son. Luke is seen here taking delivery of the machine from Andy Baker who was HM Plant's regional salesman at that time and who is still with the company to this day. It's always a delight to have a new machine either as an owner or operating someone else's kit and we can see from the smile on Luke's face that he was one chuffed operator!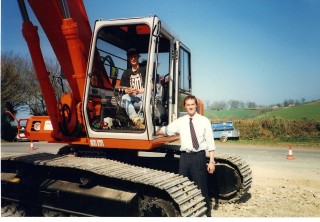 The machine is seen here with another youngster trying out the controls, with the engine switched off I hasten to add, by Luke's young niece.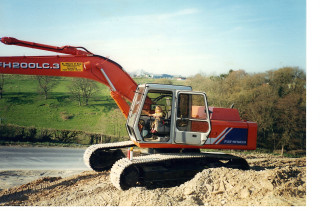 Luke also went on to operate some heavier kit in the South West, with Torquay based Alex Sims, including many of the famous makes from that era, notably O&K's, Komatsu's and this Liebherr R974, which see's Luke at the controls loading a rigid dumptruck on another large road job in the Westcountry.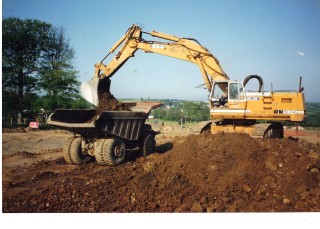 Alex Sims was a big O&K customer down here and Luke was lucky enough to spend some operating time on one of their RH30-D machines, which was working on another section of A30 improvement works at Bolventor, which passes by the famous Jamaica Inn, and is a hotspot for the many tourists that visit Cornwall in the summer months. I love the comparison in size with the Daewoo DH130 to the right of the big O&K in this shot.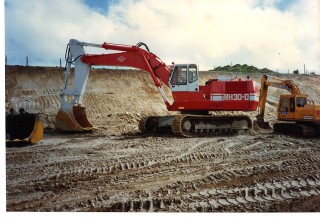 In the next part of this post we will continue our look back at some of the machines Luke has operated and find out how he got into the machinery selling side of the business.