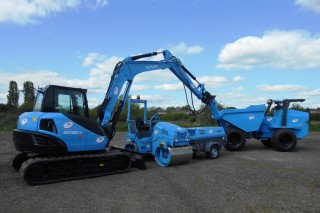 Less common is 45, but that it the anniversary that plant hire firm GAP Group has decided to celebrate. It is 45 years since Gordon Anderson opened his first depot in Linwood, next to Glasgow Airport, in 1969. Today the company has close to 100 locations across the UK and 2013/14 revenues are expected to be up around 20% from £98m last year to something close to £120m.
Apparently 45 is a sapphire anniversary and so, to celebrate, GAP has specified a bunch of new machines in sapphire blue livery. A Kubota KX080-4 excavator, Terex TA9 dumper, Bomag HD12 VV Roller, Atlas Copco XAS-47 DDG Compressor and Rammer BR777 Pecker will be travelling to construction sites across the UK throughout the year.
Group procurement manager Ken Stewart says: "I approached the above key suppliers for their support to help us celebrate our 45th anniversary by producing bespoke pieces of sapphire painted plant and each of them was keen to participate. The appropriate RAL paint code was identified and provided to our suppliers. The equipment was taken from our production schedules and basically painted 'off-line' without causing too much disruption and was delivered in time for display at our annual conference.

"We now have a small collection of this unique plant that will tour the country during 2014."