Meanwhile, the various operating divisions of Terex have to try and ignore the corporate shenanigans and get on with real life to maintain value in the business. Genie has been by far the brightest segment of the Terex empire in recent years, accounting for most of its profits, so it bears the brunt of the pressure to stay ahead of the game.
So what does Genie have in store for us? I can tell you that there will be four new Genie machines on the Terex stand at the Bauma trade fair in Munich next month, but so far I only know about the GTH-3007 compact telehandler, which is pictured here. This, says Terex, "combines efficient, full-featured capabilities with the most compact dimensions and lightest machine weight in its category". Naturally, it also comes at "a market-beating price".
This is the big brother of the Genie GTH-2506 telehandler. It has a maximum lift capacity of 3000 kg, a vertical reach capacity of 2500 kg at a maximum height of seven metres, and a horizontal reach capacity of 1000 kg at four metres. The engine is a 74-horse Deutz that is Euro Stage IIIB compliant.
Build features include a two-stage boom with no chains or cables, durable heavy-duty steel fenders, variable speed hydrostat transmission and Dana axles with full-time planetary four-wheel drive and four-wheel steer.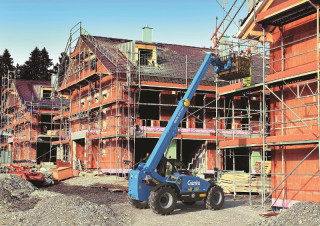 Doubtless the other new Genie machines at Bauma will be aerial work platforms of some description. See booth FM 711 at the Messe Muenchen showground if your interested.
Bauma takes place from 11th to 17th April. For more details on Bauma and how to get there, see www.bauma.de .