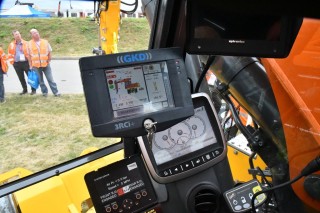 Pro Rail Services is a family-owned business, established in 2012 in Rudgwick, in West Sussex. Customers include Network Rail, Balfour Beatty, BAM Nuttall, and Keltbray Rail.
Operations manager Richard Rowell is responsible for the plant & haulage division, which includes RRVs, civil engineering plant and on track plant. He is also in charge of the operators, purchasing, haulage and logistics planning for all projects.
The company has recently invested £2.5m in new kit, including two Doosan DX140 tracked parallel offset RRVs and a pair of wheeled heavy-lift Doosan DX270 RRVs. The latter come with the optional 5.5-metre dipper arm.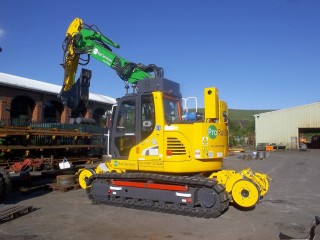 Richard Rowell says: "All the RRVs we have ordered are fitted with the GKD 3RCi + Space Guard rated capacity indicator system. The machines, and the GKD systems, were supplied by GOS Engineering, who specialise in road/rail conversions, as well as civil conversions."
He is a GKD fan: "We currently have two Kobelco SK-135 RRVs [one of them is pictured below], which have two years left of their seven-year life span on the ECCs. Both are fitted with the older versions of the GKD 3RCi, which are non ALO [adjacent line operation] compliant. In the many years of using the 3RCi we have found them to be reliable and prefer the GKD brand over competitors' systems – I really think that GKD has the leading edge.
"With the GKD system there's more leniency and capability to lift more and with more accuracy when working on cant's and not restricted using sectors. The new 3RCi with Space Guard, fitted on the new Doosans, will allow us to work adjacent line open and travel under live overhead wires. We are very much looking forward to putting these machines to work."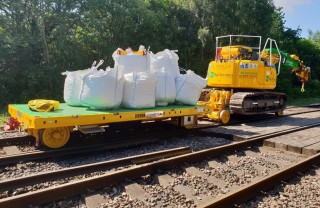 Colin Sim is one of Pro Rail Services' lift planners and operators. He has been using GKD safety systems for many years and also reckons that they the best on the market. "GKD's systems are user-friendly and very straight forward, where others are too complicated – I really can't fault the systems," he says. "They also have far more options, which include a lift planner, where you are able to go online and download the guidance for weight and stability for your specific machine, as it's not a case of 'one size fits all' – all models of machine have different capabilities and set-up."
He continues: "GKD also offer a really good back-up service and their screens are very reliable. The data record option is also very useful as you are able to tell exactly what the machine has been doing and in what mode – which, should an accident occur, is good for evidence purposes. The Space Guard feature, which has dual sensing, allows for more accuracy, sensor malfunction and electronic failures, will also help productivity."
GKD says that most machines operating on Network Rail are fitted with one of its systems. Many contractors, including Skanska, now insist on height and slew monitors on machines working on their projects.
Pro Rail Services is also investing in a range of attachments, including mulcher/flails, log grabs and chippers for vegetation management, as well as two Pladdet suction units from Holland currently going through the railways' product acceptance process. The suction unit is remote-controlled and is used for excavating ballast, drainage clearance works and working alongside jetting units.