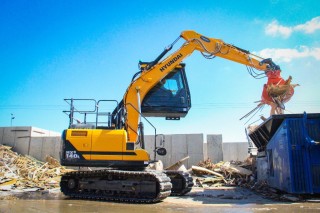 It is a standard HX140L with a two-metre high-rise cab allowing operators on waste recycling sites to pick through material and load bins more efficiently.
Kocurek fitted the hi-rise cab to the specifications of the customer and the Hyundai dealer, Molson.
Molson service director Martyn Tucker says: "With a tried and tested base machine like the Hyundai HX140L, we knew we had a solid and reliable machine to use as a platform for this conversion
"We have worked with the team at Kocureck on many projects before, so we know how to achieve the best result together. Their engineers worked with us every step of the way on this, from concept to completion and will continue to provide after sales care alongside Molson."
With the finished machine weighing in at 17,700 kg, with a total reach of eight metres (4.6-metre boom and 3.0-metre arm) and a two-metre high-rise cab, it is a versatile option, Molson says.
Additional specifications Molson has put on this custom-built unit include 700mm steel tracks fitted with bolt-on rubber blocks to prevent damage to concreted yards, and a revising fan to keep the engine happy in a typically dusty environment.

For safety, Molson has fitted a front screen guard, boom and arm check valves, white noise travel alarm, blue strobes and a green seat belt beacon in addition to the standard orange working beacon. The final addition of a rotation circuit allows full operation of the 300-litre capacity NPK DG14 selector grab.