Standing dominantly on Hitachi's impressive stand, was the large and imposing figure of the ZX670LCH-5. This machine which was attracting a lot of attention on my numerous visits to the stand, weighs in at 71.688kg (158,045lbs) and is powered by a 345kw (463hp) Isuzu 6WG1-1T4 engine, it can carry buckets ranging from 1.3 – 5.05 m3 (1.7 – 6.6 cubic yards.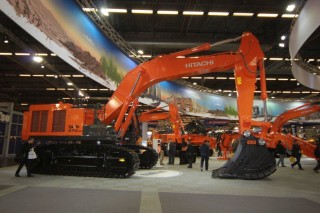 Also featured on stand was the ZX350LC-5, which competes in the 35 ton class bracket. Like all the other models in the Dash-5 series, this machine features the latest generation of Isuzu Tier IIIB compliant engines that are said to deliver higher productivity-with greater fuel efficiency.
According to Hitachi, the Zaxis-5 range sets the benchmark for all round efficiency with the TRIAS (medium models) and HIOS IIIB (large models) hydraulic systems that allow faster and even smoother operation, with lower fuel consumption. The hydraulic system also offers the operator a 10% auto-power boost and auto-power lift option for when excavating and lifting duties become heavy.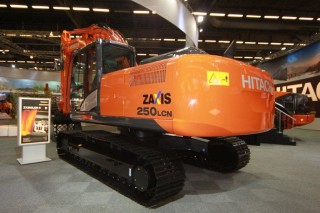 I climbed into the cab of a ZX250LC-5 to see what all the fuss is about. The interior has a pleasant and airy feel to it, with extra leg room provided thanks to an increased seat slide range. The fully adjustable seat features air suspension which is always a nice option on any machine and helps to minimise operator fatigue. The cab is fully pressurised to prevent ingress of dust, providing you are not an old school operator like me who prefers the front screen open at all times! All controls are nicely laid out and within easy reach of the operator, and there is plenty of storage space for the operator's lunch bag, tools and paperwork. The multi-function LCD monitor doubles up as the rear view camera screen that is rapidly becoming an industry standard fitting these days. There is even an option for iPod connectivity. The light choice of seat colour has raised a few eyebrows, since photos were released to the public, but with many operators choosing to fit their own seat covers, it shouldn't be much of a problem.
Also unveiled at Intermat was Hitachi's new ZH200 20 ton class Hybrid excavator, in this short video clip from Hitachi you can find out more about what is under the machines skin.

Other models of interest to me were the ever popular 13 ton offering the ZX130LCN. I have owned two Hitachi 13 ton class models in the past and I simply could not fault them, and I am sure this latest reincarnation would be even better.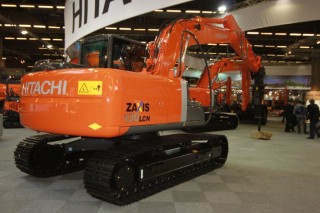 Of all the machines I have operated over the years, my favourites are the 13/14 ton size excavators, due to the fact you get such a wide variety of work, whereas on larger machines one can often be constantly engaged in bulk digging or truck loading operations.
Another machine of interest to the UK market was Hitachi's offering in the 8.5 ton class, the ZX85USB LCN, a cracking looking short radius, swing boom model.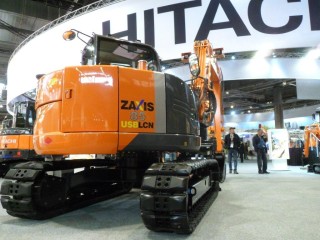 The smallest machine on the stand was the Zaxis 17U, which has an operating weight of 1.850kg and is powered by a 11.0 kw (14.8 hp) engine. This useful compact radius machine was displayed with a ripper tooth.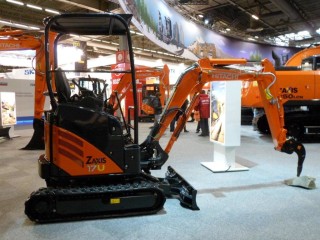 Hitachi certainly put on a stunning exhibition of products at Intermat, and we look forward to seeing more models upgraded to Dash-5 status during the coming year.