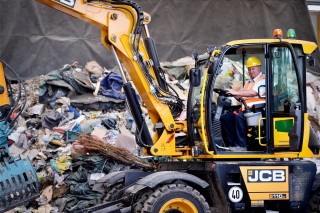 At its waste transfer station just outside Theale in Berkshire, Hadley Recycling & Waste processes approximately 1000 tonnes a week of mixed waste including mixed construction and demolition waste, wood, plasterboard and green waste. The first machine to touch it is a new JCB Hydradig 110W, playing a key role in keeping the throughput flowing at the busy site.
"The JCB Hydradig fits our front-end pre-sort process perfectly," says operations director Paul Lock. That's him, above.
"It has a small footprint but covers a big operational area and is very productive. Safety was a predominant reason the purchase with the driver able to see all four corners of the machine from the operator seat because the engine is beneath the cab. Our machine is fitted with reversing cameras, which gives the operator perfect rear visibility when reversing."
He is also impressed that the Wastemaster spec Hydradig is fitted with a reversing fan. "I struggled to get any other manufacturer to spec one on this size of machine."
It's an important item. "Our site can get very dusty and with our previous machine we had to 'blow out' the radiator several times a day, which made it very hot," says Lock. "With the Hydradig, the operator simply presses a button to reverse the fan, which then automatically blows out dust from the radiator to maintain operations and keep the machine in good condition."

The skip hire and waste management company sorts waste within its 2,700 square metre purpose-built transfer station, which opened in March 2017. Servicing Reading and the surrounding areas, the site can accept all industrial and commercial waste, including hardcore, metal, wood, paper and cardboard, soil and plastics.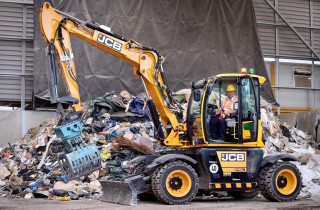 "Skip sales are up 30% and bigger bins by 53% – demand is going crazy," says Paul Lock. The waste brought onto the site in these skips and bins gets tipped in the building for sorting and the Hydradig performs the pre-sort.
"The task was previously undertaken using a 5.5-tonne rubber-tracked mini-digger. It was a bit small and didn't suit the operation. We were flogging it to death and because it didn't have a reversing fan, it was constantly overheating. We also needed something that was kinder to our concrete surface than a tracked machine."
Dealer Greenshields JCB explained what the 11.5-tonne Hydradig could do and made the sale deal in May 2017. The machine has a four-metre turning circle and can lift 1000 kg at maximum reach. In this spec, a swivelling selector grab sorts the waste. Any stray item can be plucked out with accuracy and then in the next movement a whole bucket-load can be grabbed. This means the Hydradig can not only carry out the heavy shifting that only a machine can perform, but it can also do the job of manual pickers, he explains.