Hydrema are probably best known for the amazing low ground pressure articulated dumptrucks, which will travel where many others fear to tread. The latest model the 912HM, is powered by a 131hp Perkins E1104D-44TA tier 3a engine, which drives a ZF 6-speed fully automatic transmission. This transmission is electronically controlled to offer the operator smooth gear changes without any loss of tractive effort, this function improves the ride for the operator and provides longevity to vital components within the machine itself. The operator has a choice of 6 forward gears and 3 reverse. I spotted this stunning 912HM example, in special black livery at last year's Bauma trade fair in Munich.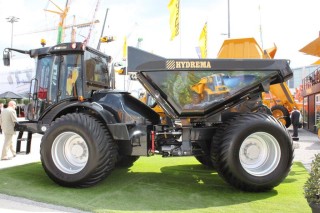 Also on the stand were examples of other products from the company's portfolio, including the 928D, which is a 10 tonne articulated backhoe loader which can offer stunning levels of performance. The machine is powered by the same Perkins 131hp engine as is fitted to the 912HM. But it's the machines ability to offer a 200 degree slew area which makes this machine stand out from the crowd, in addition to that the machines articulated chassis arrangement makes the machine very adaptable when working in tight spaces.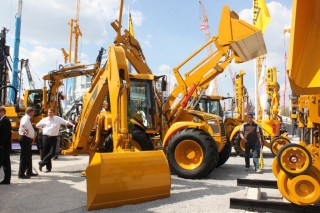 The company also manufacture a range of 6 mobile excavators, including a special rail version. This 1100C model is the smallest in the range, weighing in at 11.5 tonnes when fitted with a dozer blade and 12.2 tonne when supplied with dozer blade and stabilizers. As with all Hydrema machines, the operator is well catered for in a well equipped and comfortable cab, featuring full climate control.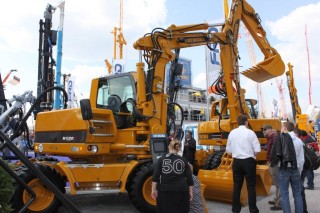 As previously mentioned, the company offers various rail mounted adaptations of its product range. One of which is this 912DS Rail dumptruck model which features a power swivel skip, an ideal solution for transporting and distributing rail ballast along the trackside.
I look forward to reporting on Hydrema's products again at Plantworx 2013, and hopefully the company will take a chance to jump on the Digger Blog bus with the many other manufacturers who are now offering us the chance to test drive and report on their latest items of kit.