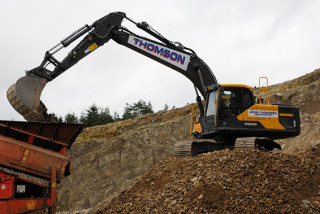 Founded in 1952 by the late John Thomson, it has been run by his sons Iain and Graham since 1988 and has grown to be one of Arran's largest employers.
Among the varied workload of JTC, it operates Dereneneach Quarry on the island's String Road near Shiskine. And it is here that the company's latest investment has been put to work – a new 22-tonne Volvo EC220E crawler excavator has, for the time being at least, been put in charge of loading a mobile crusher.
The new Tier IV compliant EC220E joins a mixed fleet of equipment operated by the company, including older EC140B diggers and Volvo loading shovels.
Although it has started out at the quarry, it has been specified for multi-functional duties so that it can work within any of the company's five main activities on Arran. Besides quarrying, these include construction, house-building, general plant hire and forestry. Features of the new machine include an X3 rotation circuit and heavy duty guarding around the cab and hydraulic cylinders.
Opting for the new E series from Volvo was a culmination of recently trialling and evaluating a D series EC220, followed by a factory visit to the 2015 Volvo Days event in Eskilstuna, Sweden. Here managing director Iain Thomson was able to appraise the latest model first hand.

"We know from our own experiences that the Volvo comes with a good pedigree in terms of performance, operator acceptance and overall reliability," he says. "With the outcome of a recent demonstration plus the chance to take a detailed look at the latest E model we decided the time was right to opt for the latest 22-tonne machine."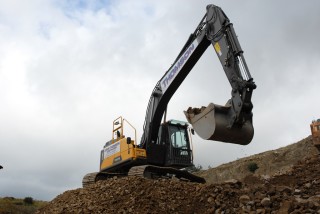 The EC220E is powered by a six-cylinder Volvo engine developing 174 net horsepower. Pump flow is controlled for combined digging and swinging operations to reduce the flow loss through the overload relief valves, while maintaining digging power and maximum swing torque.