The new Takeuchi mini excavators have all been supplied by CBL complete with new Ifor Williams plant trailers as part of the package. E A Grey are currently working on utilities and civil engineering projects throughout Cornwall, Devon and the Scilly Islands. The company have been hiring various makes of mini excavators over recent years, but have now chosen to standardise on the Takeuchi TB016, which continues to be a popular choice with the company's operators, as well as considering reliability and profit.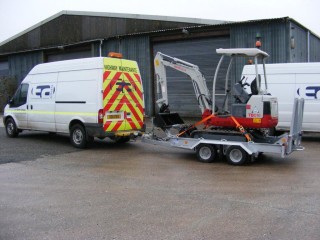 Tom Grey, Managing Director of E A Grey, is committed to providing the best and most efficient machines available to enable them to provide a top class service for their demanding customers.

The Takeuchi TB016 has been a popular choice with utilities companies for many years now, with most operators I have spoken to in the past, keen to heap praise on the silky smooth hydraulic systems that Takeuchi machines are notorious for. When working in and amongst live services, good feedback and feel through the levers is essential and these machines certainly provide it well.
I am looking forward to seeing what surprises Takeuchi have in store for us at Bauma in April and at the inaugral Plantworx show in May.