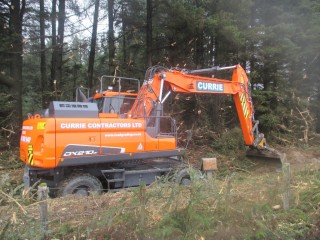 The new Doosan has already worked on projects spanning the length of the UK. Its first project was on a new solar power installation near Andover in Hampshire, where it worked alongside another Doosan DX225LC-3 excavator owned by Currie Contractors, before head back north to Scotland.
Located between Aberdeen and Inverness, Currie Contractors is a specialist in road construction and road recycling, but offers a wide range of other services, including mulching, forestry, snow ploughing and renewable energy. Currie has a range of plant and attachments, but likes its Doosans.
Director Ian Currie says: "We provide a wide range of services and have always run a 20-tonne-plus wheeled excavator for the advantages it offers in trenching for ducts and for general deep sewer work. This type of machine is also well suited to road works and hardcore levelling of the type that it was carrying out in Andover. The new Doosan DX210W-5 wheeled excavator provides exceptional performance for these applications."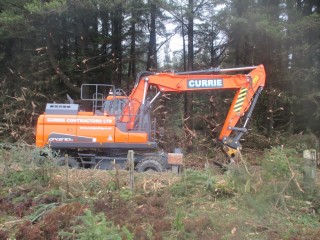 The machine was supplied by Balgownie, the local Doosan and Bobcat dealer.
Ian's son, James, also a director of the family business, adds: "We favour the Doosan brand in our fleet and have been buying Doosan excavators from Balgownie since 2008 when we purchased our first machine – a DX255LC model. We still have that excavator. It's a great machine and its performance over the years has convinced us to stay with the Doosan range for our fleet.

"The excellent service provided by Balgownie was very important in opting for Doosan again for the new wheeled excavator. We think it is a distinct advantage to have all your machines from one manufacturer, all with the same set-up and our preferred Geith quick hitches, so buckets and attachments can be interchangeable."
On the Andover solar park project, the DX210W-5 excavator was operated by Gordon Durno, who has been with Currie Contractors for more than 30 years. He says: "The DX210W-5 is a nice piece of kit, with plenty of speed and power. I'm finding the two-piece boom to be very useful too. The cab comfort level is incredible so it's a good place to spend your working days."
The DX210W-5 is powered by the six-cylinder, turbocharged Doosan DL06P water-cooled diesel engine, providing an output of 141.2 kW (189 HP) at 1900 rpm, which is a 17% increase in engine power over the previous generation machine.