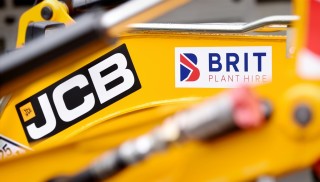 Brit Plant Hire was incorporated in March 2017 in Lichfield, Staffordshire, with equal co-owners Bradley Edwards, 32, and Glyn Douglas, 39, as directors.
Not only are all of the machines JCBs, they've also benefited from support from JCB PR & marketing consultants for their launch, branding and website too.
They are clearly a patriotic pair, are Messrs Edwards and Douglas, who are keen to fly the flag. All of their new micro excavators, mini excavators, site dumpers and compaction equipment are liveried with a Union Jack motif to emphasise that "our business is founded on the key British principles of high quality".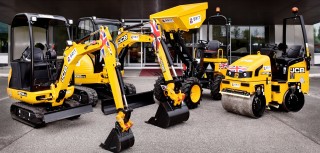 Brit Plant Hire is based in Hollington, just three miles from JCB's world headquarters in Rocester and their initial target catchment area is Staffordshire and Derbyshire. Glyn Douglas says: "We've seen first-hand how rental firms in Derbyshire and Staffordshire are struggling to supply the booming local building trade with compact kit – so we set up Brit Plant Hire to address this need.
"Once we had identified the opportunity, the decision to go with JCB was a simple one. We want to support British industry, we want to support jobs in Staffordshire and we want to offer our customers the best machines and backup available."

The company's machines have been supplied by dealer Gunn JCB.
"The advice and support we have received from Gunn JCB in Stoke-on-Trent has been fantastic while planning the business," Glyn says, "and we're hoping to forge a long-term partnership with a world-class local manufacturer. Early feedback on our business concept has been exceptional, so we're excited to start working with plant users in the region."
Pictured below are, left to right, Mark Robinson of JCB dealer Gunn JCB and JCB UK & Ireland sales director Dan Thompstone with Bradley Edwards and Glyn Douglas.