Wayne Goring is an excavator operator working for civil engineering contractor PM Harris Ltd. He is currently operating one of the first new JCB X Series tracked excavators to roll of the production line, which has been put straight to work just a few miles away from the JCB factory where it was built.
Purchased by Ashbourne-based PM Harris Ltd and supplied by dealer Gunn JCB, the machine is carrying out groundworks at JCB's own Compact Products and Earthmovers factories in Cheadle, Staffordshire.
It is working alongside existing JCB tracked excavators and site dumpers from the PM Harris fleet as part of the contract to carry out drainage work and the construction of new car parks at the site.
JCB says that the 220X – a 20-tonne tracked excavator model, launched earlier this year – has been designed to provide maximum operator comfort, durability and reliability in operation.
"I've operated 360° excavators for nearly 19 years and this new JCB 220X is the best 20-tonne model I've ever experienced," Wayne Goring says. "What a dream it is to drive. It's fast, powerful and smooth. The cab is amazing, with loads of room and a comfy seat. The computer and quick hitch are very easy to use. This machine will take some beating."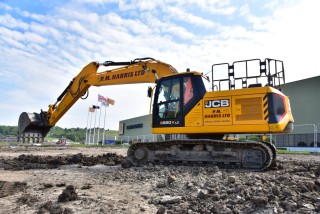 PM Harris director Paul Harris says: "We chose the new JCB X Series because of several key factors. The layout in the cab is excellent and the hydraulics are faster giving us greater fuel efficiency and productivity."
He adds: "We like to support a local British manufacturer and have been using JCB equipment since we founded the business [in 1975]."