Kilmac was looking to expand its fleet of excavators with something strong, good value for money and of an excellent build quality. The new 8.5-tonne A-series machine (pictured above) proved to be the perfect fit – so good in fact, that Kilmac ordered three from its local dealer Agritrac.
"These will be the first three Hyundais of many," predicts Kilmac's group buyer, Bert Hope.
Kilmac covers projects across the whole of Scotland, including a development to introduce wider footpaths and cycle ways on the Dundee to Aberdeen Road.
"We reviewed a lot of different machines based on price, performance and operator reviews," says Bert, "and the Hyundai stood out a mile in all three areas. The operators were extremely positive about the machine's workability and manoeuvrability, its responsiveness and, above all, the fact it's comfortable and nice to drive.
"I'm of the opinion that if I've got happy operators, the job will turn out better for the customer and so their feedback was very important to us. Some of our drivers have been working on sites for 30+ years and really know what makes a good machine."

Along with a positive response to the excavator's visibility, camera system and operator comfort, the Kilmac team discovered further benefits to the HX85A too.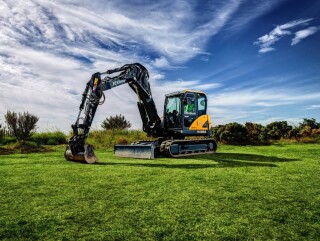 Bert continues: "These mini excavators pack a surprising punch – they dig extremely well, excavating deep but still working in a really tight space. They're spacious too – the cab is the same size as a 14-tonne machine, which means it's a much more pleasant environment for our operators to spend long days in.
"But the biggest surprise has been how easy it has been to obtain parts for the machines. Especially in the current climate, this was a concern for us but everything has been swift and efficient – the after-service care has been brilliant. We will certainly be purchasing more Hyundais in the future – they're comfortable, easy to use, competitive on price and the safety features are second to none."
Supplied by Hyundai Construction Equipment dealer, Agritrac, the HX85A compact excavator is part of the Hyundai A Series – a fresh generation of construction equipment that complies with the European emission levels.
The HX85A comes with many functions and features adopted from larger Hyundai excavators, which makes it a top-performing and very user-friendly machine that finds its ideal work environment on urban job sites.