The new SK230SRLC-7 (pictured above) and SK270SR(N)LC-7 (below right) follow Kobelco's Performance x Design concept and offer "powerful performance and productivity, precise controllability and excellent stability and lifting", according to the promotional literature.
Kobelco introduced its first short radius (SR) machine in 1996 and now has the largest SR range on the market, it claims, covering machines from one tonne (the SK10SR-2E) to 38 tonnes (the SK380SRLC).
The smaller working footprint means that they can access tighter working areas and even operate within a single carriageway, impinging less on any passing traffic.
The SK230SRLC-7 and SK270SR(N)LC-7 are equipped with a Yanmar Stage V compliant engine that provides 127 kW output and 22% higher torque than previous models. In addition, the diesel particulate filter replacement interval has been extended from 4,500 to 6,000 hours of operation.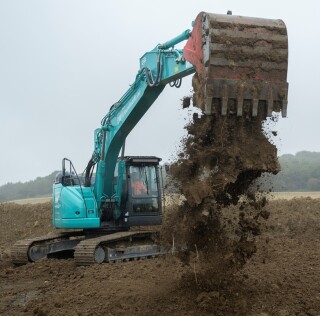 The SK230SRLC-7 weighs in at 24 tonnes while the SK270SR(N)LC-7, which has a two-piece boom, is 27.3 tonnes. Their longer undercarriages ensure stability even when lifting heavy loads.
The SK230SRLC-7's arm and bucket cylinder have been reinforced, with plate thickness of the arm increased by 25% since the previous -5 generation model. The bucket cylinder has been reinforced by enlarging the flange and increasing the rod side pin diameter from 80 to 85 mm.
The cabin is equipped with a DAB+ radio, Bluetooth and hands-free telephone. A jog dial controls multiple functions on the 10 inch colour screen, including operating history, maintenance cycle, temperature gauges and hydraulic oil-flow adjustment.
Kobelco product marketing manager Wesley Elverding sayes: "Increased requirements for urban infrastructure, utilities and roadbuilding means an increased demand for compact machinery. The new SK230SRLC-7 and SK270SR(N)LC-7 provide the same powerful performance and lifting capacity as our mid-weight conventional machines, but with a smaller working footprint of just 4.06 metres (SK230SRLC) and 3.68 metres (SK270SRLC). The two new SR models will also pave the way for the arrival of the larger SK380SRLC-7 later this year."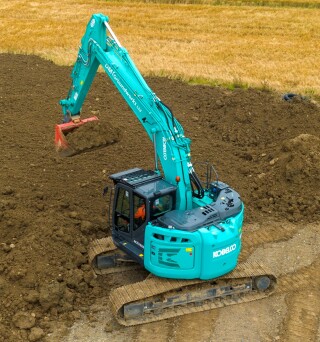 The top photo on this page is © Kemp Group; the bottom two are © McSharry.