Being more of an "old school" operator myself, I still believe that there is no substitute for traditional "hands on" training, which includes getting behind the wheel or levers and really learning to get the feel of the machines you are going to be using.
However, many of the younger machine drivers that are coming through nowadays are far more familiar with computers, Xbox and Wii systems, then many of us "old boys".
Caterpillar for example had a number of different simulators for visitors to try out, including this excavator version, which was proving to be a very popular attraction.
Over at the Volvo stand, there was a very similar excavator simulator, which included a partial C-series excavator cab to enhance the real feel.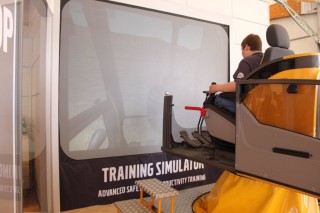 I have never had the chance to try out any of these systems to see how realistic they are, but I like to keep an open mind about the benefits they could potentially offer the up and coming operators of the future.
The closest I have come to one is in the form of an excavator simulator app I recently downloaded onto my iPhone, I think maybe I need to get out more!
Seriously though I would love to hear what you all think of these modern day gadgets, and do you think they could have any benefits?