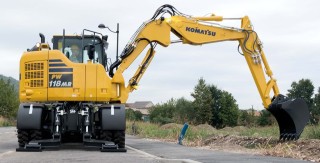 It is a machine that has been designed for heavy duty lifting applications or simple excavating tasks in narrow alleys, on road works or sewer construction sites.
With operating weights ranging from 12.8 to 13.9 tonnes, the PW118MR‐11 is powered by a Komatsu SAA4D95LE‐7 engine, EU Stage IV compliant, with a net horsepower of 72.5 kW @ 2,050 rpm.
Marubeni-Komatsu says it is "sturdy and stable" with "a class‐leading compact size".
Alex Visentin, product manager for compact wheeled excavators, says: "This perfect match between size and performance was a focus for Komatsu designers. It makes the machine exceptionally versatile, with the lowest fuel consumption level in its class."
He claims: "On the European market today, no other manufacturer can guarantee such a unique combination".
A heavy counterweight is now integrated in the PW118MR‐11 as standard, with no extension of tail protrusion, and enhanced stability.
The Komtrax telematics system maximise machine efficiency while an electronic control system manages the airflow rate, fuel injection, combustion parameters and engine emissions after-treatment functions.
The new viscous fan clutch system reduces both power loss and engine load when maximum cooling is not required. It lowers fuel consumption and contributes to less in‐cab noise. A new auto‐idle shutdown helps the machine to further decrease fuel consumption. Proportional control joysticks are standard and allow precise operation of attachments with comfort and ease. The addition of the new Neutral Detection System reduces the risk of inadvertent operation.

On the dashboard, new switches let the operator change between two-wheel, four-wheel and crab steering modes, and to activate/deactivate the auto axle lock. There are six working modes to choose from, according to application. A new 'attachment economy' mode can be used even with powered attachments to keep fuel consumption and emissions down.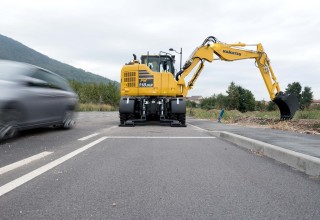 For driving longer distances, there is a cruise control function. Reduced power loss in the travel system and a revised hydraulic layout improve speed and acceleration, both on flat ground and on slopes, Komatsu says.
Other in-cab features more familiar in motor cars include a Bluetooth connection and auxiliary USB input for connecting external devices.
Then there is Komatsu's standard Komvision system, and its display on the monitor of a real‐time bird's eye view of the machine's immediate surroundings.