The 8155 is a new size class for Kramer, with a bucket capacity of 1.55 m3, tipping load of 5,600 kg, stack payload of 3,900 kg and operating weight of 9,150 kg.
As with all models of the 8-series – Kramer's Premium series – all-wheel, crab and front-axle steering are available as standard.
It is powered by a 100 kW Deutz TCD 3.6 engine. Stage IV compliant, the exhaust gas after-treatment is carried out by diesel oxidation catalyst (DOC) and selective catalytic reduction (SCR).
The powerful 115 kW Deutz TCD 4.1 engine is available as an option. This one also has a diesel particulate filter on top.

Kramer's new ecospeedPRO wide-angle travel drive with continuously variable hydrostatic transmission has an optional 370cc absorption volume for increased tractive effort and driving dynamics. It has intelligent Smart Driving motor speed reduction as standard. This adapts the engine speed at constant speed to suit the driving requirements. When the maximum speed is reached, this results in reduced noise, lower fuel consumption and reduced stress on the individual components. With ecospeedPRO, the engine speed can be reduced to 1,550 rpm at maximum travel speed.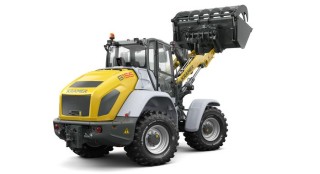 There is more information on this machine at www.kramer.de