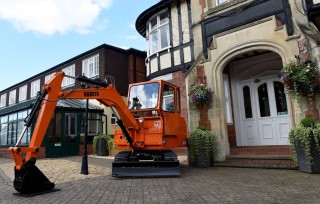 Director James Walsh and his team spent three months stripping down the KH10 model, refurbishing each individual component and rebuilding the machine in its entirety. The result is a mini-excavator that has been restored to full working order, using the original engine and pump.
In addition to restoring the KH10, Kubota UK also produced a 'special edition' gold painted KX-71 machine, considered to be the modern day successor of the KH10. This machine was donated to construction industry charity The Lighthouse Club, which then raised £26,000 by auctioning the machine at its summer ball.
James Walsh says "We were very flattered to be asked by Kubota to renovate its original mini-excavator as part of its 50,000th mini-excavator sale celebrations. To be able to refurbish a machine back to full operation that utilises all the original critical components is a testament to the manufacturing standards set by Kubota."

Dave Roberts, managing director of Kubota UK, said: "Kubota was the first company to introduce and pioneer the concept of mini-excavators into the UK back in 1979, so to see our first machine returned back to full working order by Walsh Plant Services is great to see and give us an opportunity to reflect on how much we have achieved in the construction industry since.
"In 1979, Kubota sold only 41 machines and to be able to now celebrate our 50,000th excavator sale in UK and Ireland less than 40 years later is a fantastic achievement by all at Kubota."