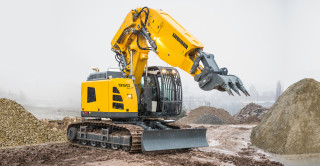 It's the new R 950 Tunnel crawler excavator from Liebherr-France. Produced at the manufacturer's Colmar facility, it's designed to be compact to get inside tunnel construction sites and tear away at the rock face. It is the successor the R 944 C Tunnel, with improved breakout forces naturally, and can work in tunnels that are between five and eight metres high.
Engine is 150kW / 204 hp (190 kW / 258 hp optional) Euromot Stage IV. Without quick coupler, digging force is 207 kN (21.1 tonnes) and breakout force is 322 Kn (32.8 tonnes).
A height adjustment facility automatically stops the movement of the excavator to avoid impact with surrounding walls. The short turning radius as well as the rear and side cameras also reduce the risk of hitting something or someone.
A specific hydraulic system for mounting cutting heads enables an increase in power, hydraulic oil flow and optimised cooling of the hydraulics. Tools are changed with the hydraulic quick coupler, while flow rate, pressures and return of flow are adjusted from the cab.

Liebherr specialises in the development and production of hydraulic excavators, crawler tractors and loaders suitable for what still seems to be called New Austrian Tunnelling Method (or NATM), or what might more literally be called the chisel, shovel and spray method.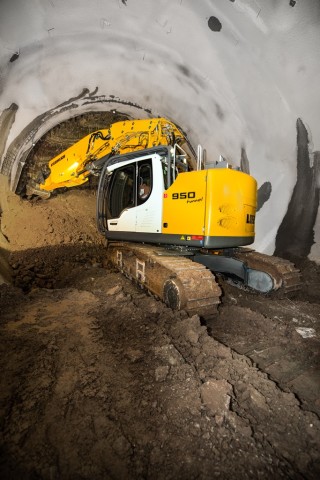 The photo above shows the Liebherr R 950 Tunnel crawler excavator at work somewhere under Stuttgart, in Germany.