Kinegar Quarries Ltd of Cockburnspath near Dunbar is a family-run business led by brothers Stephen and Arnot Findlay.
The L120 shovel was bought in the late 1980s and, having benefitted from a replacement engine and transmission in the meantime, it is still going strong at Kinegar Quarry. The brothers have been Volvo fans ever since.
"Over the years we have purchased various Volvo machines and they have a good track record for longevity and reliability," Stephen Findlay says.
Kinegar Quarries also owns Glenfin Quarry. Here, until recently, a 1996 vintage Akerman EC300 did the donkey work of ripping greywacke sandstone from an arrangement of benches, loading it up onto the resident Volvo A25D dumptruck for hauling to the primary crusher.
Now, however, after 12,600 hours of operation the Akerman has been replaced by a new Volvo EC380D excavator (pictured below). With breakout and tearout forces reaching 242.7kN and 219.1kN respectively, it's just the job for Glenfin Quarry.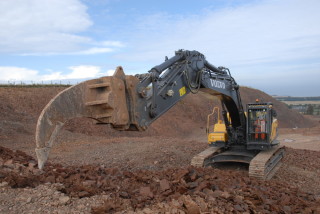 Equipped with a hydraulic quick-hitch and a bespoke ripper tooth, the 38-tonne excavator is well on top of the task in hand ripping the virgin material from bank. The greywacke sandstone here has a high polished stone value (PSV) of around 72, which when crushed down to 10mm and 6mm product makes it good for road surfacing with excellent anti-skid properties. Located near the A1 by the east coast, the company supplies this material across Scotland and northeast England, and as far south as Coalville in Leicestershire.