Luke Furse Earthmoving is a family run business, which was established by Luke Furse in 1979. Today the business is run by Luke Furse, his wife Susanne and their son Lloyd. From humble beginnings, the company has grown considerably over the years and is currently in its 33rd year of trading. The company has developed into a multi faceted concern, which also includes an impressive agricultural division, which features some of the latest and most technologically advanced equipment available today. Earthmoving and plant hire is still at the core of the business though, and as part of a recent upgrade to its excavator fleet, the company have invested in two brand new Hyundai 140-9 machines.
One machine is an additional excavator to the fleet and one has come in to replace an outgoing JCB JS130, which was traded in as part of the deal. Talking about the latest additions, Lloyd Furse said "The operators are very pleased with the machines describing them as extremely smooth and fast. In particular they have pointed out that from boom full out to back in at full throttle there is no "dip" at the end when attempting grading as so often happens with competitors machines".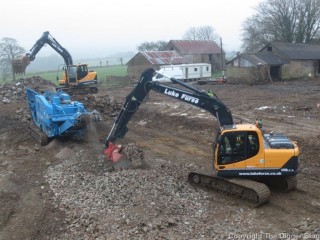 Lloyd Furse also pointed out that on the Hyundai machines the counterweight is 2 inches higher off the ground than any of the other competitors. This is a big bonus, especially when working on demolition and during concrete crushing as the additional clearance helps to prevent damage to the upper structure from debris build up. Luke Furse opted for quarry specification models, which feature heavy duty turret guards and beefed up belly plates, they are also equipped with quarry lighting and extra working lights both at the front and back of the cab. The full colour rear view camera and impressive in cab entertainment USB port, are both standard fittings in all the Dash 9 machines, as we reported in our test drive report last year.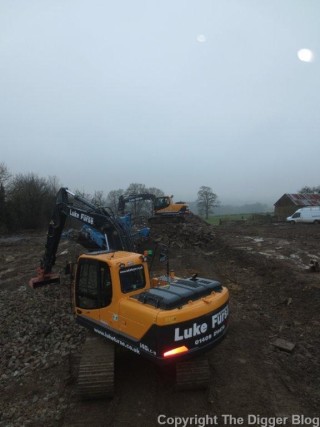 The new machines are operated by long serving Luke Furse men, who are highly experienced. Operator Alan Gliddon, who has been with the company for an impressive 28 years and Dave Hockin, who has been with them for 16 years. Both operators asked for the booms and dippers to be colour co-ordinated with the paintwork on the counterweight, as they felt that the dark colour is easier to keep clean. Molson re-sprayed the equipment prior to delivery, and I have to say it does give the machines a very distinctive look, that will certainly make them stand out from the crowd on any site.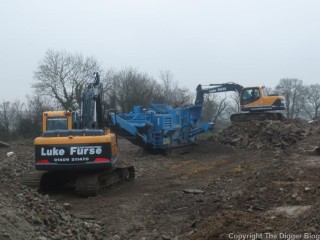 The machines have been supplied with Miller fully automatic quick hitches and a set of 3 Scoop buckets each, as specified by Luke Furse. It's early days with the new machines, but early feedback from the operators is that fuel economy is very good. According to Lloyd Furse, one of the machines has just spent the last two weeks ripping out 2000 tonnes of raw concrete with a ripper tooth prior to crushing, with the operator reporting impressive breakout forces from his new mount. The company also have peace of mind that the new machines have come with a 3 year warranty.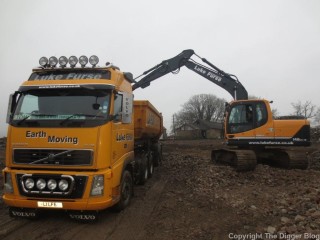 Both machines have been working on the processing of the concrete, which is being crushed by the company's own Pegson 900x600 Metrotrac crusher, which is operated by another long serving employee Mike Greenaway, who is currently in his 18th year with Luke Furse.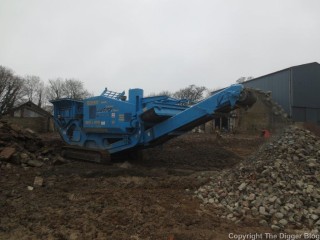 The finished concrete product is then loaded away onto the company's Volvo FH16 660 double drive unit, pulling a European Carnehl short coupled trailer, which features a Hardox body, air bag suspension and automatic tail gate. The unit also tows two other trailers as and when required, one of which is a 55 ton Andover low loader trailer with 4m double flip ramps and a Fruehauf tri axle grain trailer, which is also used for haulage of lime from time to time.
Speaking about the deal, Luke Mercer area sales manager for Molson in the South West said, "Following several weeks of talks with Luke Furse and his team, we managed to successfully put together a deal for 2 R140LC-9's, in spite of stiff competition from a number of competitors. The Luke Furse team felt that the Hyundai offered the best package considering warranty, build quality, specification and performance." Luke Mercer continued, "Luke knows exactly what he wants and both he and I are really pleased with the end result. I have to admit that the Hyundai Grey arm, although not a standard feature, looks great in this instance."
The Digger Blog looks forward to seeing how these machines progress in the busy world of Luke Furse Earthmoving.