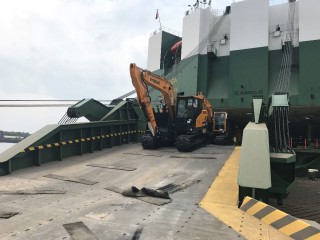 It is roughly a 5,700-mile journey from the Port of Ulsan to the Essex port of Tilbury and the most recent ship to make the journey was The Tosca, owned by Wallenius Wilhelmsen, and chartered by Eukor Car Carriers, based in Seoul. The ship weighs in at a 100,000 tonnes tonnes and has the capacity to carry 6,000 cars. Even though it is such a huge ship, with 12 separate decks, there are just 23 crew on board.
Amongst the cargo on the latest voyage, in addition to cars and used excavators, were 47 new Hyundai machines, including 19 of the new 13-tonne HX130LCR excavators.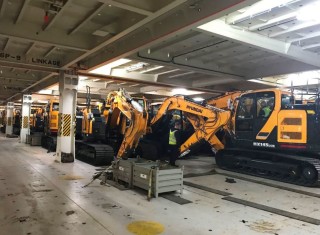 The journey from the Port of Ulsan to Tilbury Docks took The Tosca a month to complete, passing through the Suez Canal and stopping off in Germany, the Netherlands, and Belgium to collect more cargo.
Getting into Tilbury is a bit of a squeeze as the vessel is 32.5 metres wide and the lock is just 33.5 metres wide.

After offloading, the machines are driven onto low loaders and stored by the shipping agent, MK Shipping, ready for collection by Hyundai's dealers.