Neil Grainger from Camberley in Surrey, has been operating plant since he was 14 years old, with his first machine being a small Kubota agricultural tractor equipped with a backhoe and front loader, which was bought for him by his father. He then progressed onto a JCB 3CX (white cab), which was later replaced by a more modern 3CX (grey cab) Sitemaster model. Like many of us in the industry, Neil later moved on to 360 degree excavators and has never looked back since. During this time, Neil has operated a wide variety of makes and model's, including mini and midi excavators up to 9 tons, and larger machines including Komatsu PC210 and Daewoo DH220 & DH280 models.
In more recent years Neil has been running and operating his own machines, initially trading under his own name, but in February last year he set up his company, trading as Always Digging, running a Takeuchi TB016 machine. Neil has been running the popular 1.5 ton class Takeuchi's since 2002 and is currently on his fourth new machine which is a 2009 model.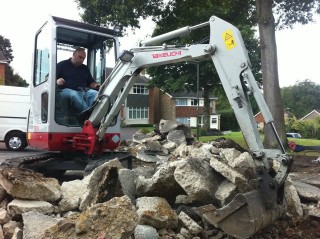 Neil has nothing but praise for the Takeuchi brand across the board and commented, "In my opinion there is no machine to touch the Takeuchi from 1.5 tons and upwards. They are the smoothest, most responsive, and comfortable machines made, and their reliability is second to none, I have never had a warranty claim or any downtime due to breakdowns in all the time I have been running them!"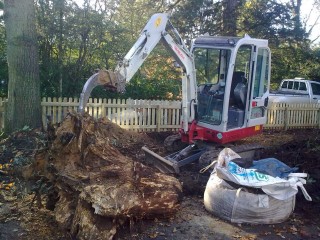 Neil recently added a little New Holland E9SR to his fleet, reflecting on his purchase Neil said, "the only reason for not staying with Takeuchi on this size machine is the fact that the New Holland comes with servo joysticks. I used to run a Takeuchi TB108 but after an 8 hour day on it I was crippled from leaning forward to operate those long levers that are situated in front of the operator, I hope one day Takeuchi will bring out a sub 1 ton machine with servo controls so my loyalties can remain with the popular red and grey machines.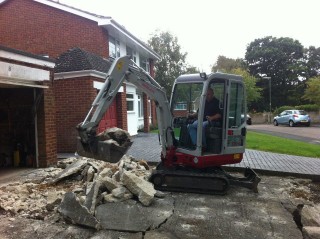 Having said that, Neil is said to be very pleased with the New Holland micro digger so far, having only owned it since October 2011. "It's as smooth and responsive as the Takeuchi, with plenty of digging power for such a small piece of kit, only time will tell how good and reliable it is but so far I am impressed" said Neil.

Always Digging have a good and loyal customer base, consisting of block paving contractors, landscapers, builders, and a couple of local councils. Neil still does a bit of operator only hire work from time to time, or if his customers need something a bit bigger they hire it in and Neil operates it for them.
Both machines are fitted with Klac quick hitches, and a Furukawa breaker is available for the TB016.
It's great to hear about successful businesses doing well in the current difficult economic climate, and the Digger Blog thanks Neil Grainger for telling us all about Always Digging.