For me one of the most striking exhibits on the Wacker Neuson stand, was the 28Z3 mini excavator, which features the company's vertical digging system (VDS). These unique machines are specifically designed to work safely and efficiently on gradients up to 150 and according to the company, can offer productivity savings of up to 25%.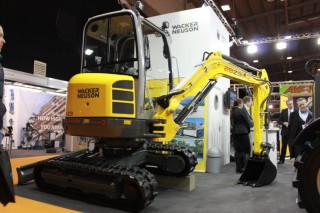 The system also offers up to 20% more stability when sat on a 150 gradient, which can be very important, especially when slewing the upper body of the excavator. This also makes it a more comfortable experience for the operator who can still sit in his normal operating position without having to brace himself in the seat when slewing the machine downhill or uphill. The VDS option is available on 7 models from the Wacker Neuson range from 1.7t to 5t.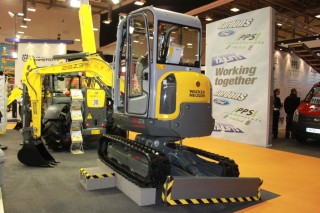 Dumpers were also featured on the Wacker Neuson stand, with examples from the company's recently announced 5 model tracked dumper range on display.
Also on show was a high discharge model, the likes of which seem to be very popular with small builders these days. The 1001 Hi Tip has a payload of 1000kg, and is powered by an economical 17kw/23.1hp Yanmar diesel engine. These dumpers are ideally suited for discharging their load into waste skips on smaller jobsites.
Around the corner at the Takeuchi stand were two examples of the company's best sellers for the small tool and mini plant markets, the 1.5 ton TB016 and the micro 1tonne class TB108. Both machines were being displayed equipped with examples for the company's hydraulic breaker range.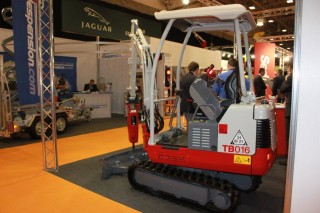 Of particular interest was the Japanese manufacturer's latest super silent range of breakers, like this TKB72-S 120kg model which is designed to fit excavators from 1.5 ton to 2.7 tons. These new models feature an all new fully protected box type housing with internal sound suppression, high impact rate, a new narrow design and a more simple design generally with less parts which can only be a good thing in terms of maintenance. The breaker is fitted with a single lower tool bushing which again facilitates easier tool changing.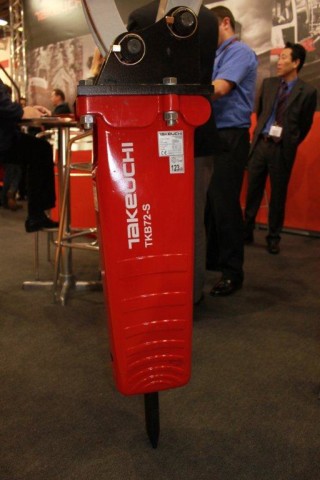 The smaller TKB52-S 80kg model is available to fit excavators from sub 1 ton to 1.5 ton.
A large and impressive stand awaited us at JCB, with a vast array of products on display, aimed at the small tool and plant hire markets. Centre stage was this micro plant combination of the 8008CTS micro excavator and the HTD-5 Dumpster tracked dumper. The 950kg/2094lb 8008CTS, which features the expanding track design for access through narrow doors and gateway's, is powered by a class leading 9.2kw engine, and features the tubular boom design which is said to improve visibility, keep the weight down and also provides protection for the hoses which are routed through it.
The perfect partner for the 8008CTs is the HTD-5 Dumpster, a compact walk behind high tipping tracked dumper, which features a 850mm undercarriage and is just 690mm wide, this again makes the machine ideal for back garden work or where access is difficult for larger machines. The HTD-5 has a carrying capacity of 500kg and can discharge its load at a height of 1450mm into a skip or high sided truck.

Also on show was the 8014CTS mini excavator, a model that is very popular with landscape industries and utility companies for its simple design and transportability.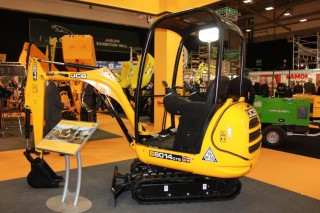 Another star attraction on the JCB stand was the newly launched 155 ECO skid steer loader. This machine uses a radial lift version of the JCB Powerboom single-sided lift arm, which is said to provide the best digging capability and reach, combined with best in class fuel efficiency. A 46% larger cab is also fitted which features the full height side access door for maximum operator safety when mounting the machine. JCB also claim that the operator's visibility is 60% better than competitors models.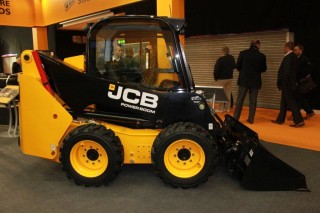 Volvo Construction Equipment presented three machines on their stand, two mini excavators and a double drum roller. These are once again aimed at the small builder, landscape contractors, and utility markets. The EC15C 1.5 ton class mini excavator is a very popular product in the Volvo mini excavator portfolio, powered by a Volvo 11.9kw/16.2 hp low emission, water cooled engine which also meets the current Tier 4 environmental regulations.
As with the larger EC18C that was also displayed, the Volvo mini excavator range feature heavy duty and sturdy digging equipment, with both boom and arm ends which are made from cast steel, to offer maximum durability on the jobsite. Hydraulic hoses are protected, as is becoming the norm these days, by routing through the boom assembly, and further protective guards are fitted throughout to protect vital parts from damage.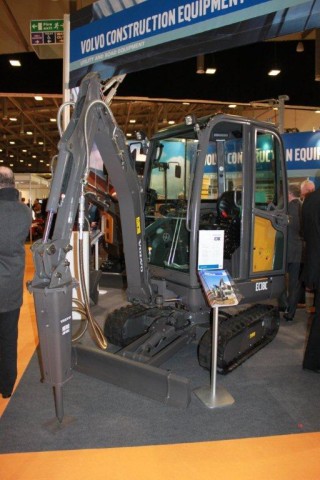 These machines also feature automatic shifting when tracking at high speed, so when the going gets tough or you are performing dozing duties, they will automatically shift down to the slower travel speed to attain the optimal tractive force required. Another feature I like with the Volvo machines, is the built in brackets on the buckets to enable ease of transporting the machine and its spare buckets around. Rumour has it that Volvo are going to put on a fantastic display at Intermat in Paris, and if the display they put on at Bauma is anything to go by, then I am really looking forward to seeing that!
Leamington Spa based dumper manufacturer Thwaites displayed two examples from its legendary dumper range. A Hi Swivel 1 ton model, and an all new 2 ton Hi Swivel model. This latest dumper can lift a load to a height of 1.710m and swivel the skip, enabling easy distribution of its load into the average builders skip. The machine is economical too with its 3 cylinder Yanmar diesel engine. The machine also features Thwaites Kinglink design, which enables superior stability and traction at all times.
Last but not least, our friends from Shannon Plant (South West) were showing the latest applications for their Solo mini transporter range, some of which we reported about in a test drive feature here on the blog last year. The latest development is a front end loader attachment, which is yet another useful addition to the ever expanding range. Also on display were the Hi Tip dumper model and the fire hose carrier model, all of which are powered by the popular Briggs & Stratton Vanguard 16hp petrol engines and are remotely operated from an impressive distance of up to 200m.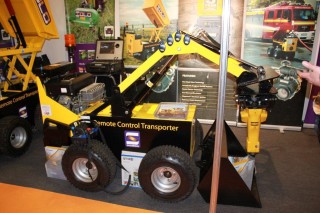 Yet another highly successful event for the EHS team and we look forward to the 2013 show. The Digger Blog would like to thank the shows hard working PR guru, Louise Murphy, for the kind hospitality we were shown during our visit.