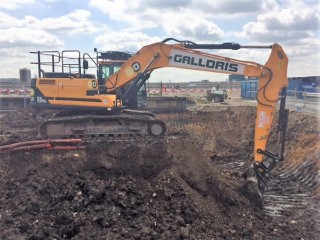 Plans are under way to create a new riverside community on former industrial land, which overlooks the Thames Barrier and is close to Canary Wharf and London City Airport.
Galldris Construction has a slice of the action and has put to work 10 new Hyundai machines from its ODG Plant Hire subsidiary.
Galldris was formed in 1998 in North London by Donal Gallagher and Sean O'Driscoll, moved into a purpose-built HQ in Enfield in 2008 and opened its own plant hire yard in 2010.
ODG Plant Hire recently updated its fleet with the introduction of five Hyundai HX145LCR and five HX220L crawler excavators from local dealer Molson.
Initially the firm was reluctant to take these machines because they need AdBlue Stage IV compliance but they were talked into it by Molson area sales manager Stuart Butler.
"We like to keep things simple and adding AdBlue is just another thing for our operators to remember," says ODG manager Craig Brown. "We want them to be concentrating on their work and not distracted by anything else. However, safety and limiting our negative impact on the environment is very important to us as a company and Molson reassured us that the adding of AdBlue really is a very straightforward process."
One of the reasons ODG took the HX145LCR excavators is the short tail swing, enabling larger machines to work in tighter spaces.
"The ODG team like the zero tail-swing of the HX145LCRs," says Stuart Butler. "They are compact, powerful excavators. Perfect for the work that Galldris Construction has lined up for them."
The HX145LCR has an operating weight of 15 tonnes and is powered by a Perkins 1204F direct injection air-cooled engine that delivers a maximum torque of 530Nm at 1400 rpm. The spec sheet also shows a height of 3.25 metres, width of 2.5 metres and a tail swing radius of 1.5 metres.

With a 1.9-metre arm the maximum dig reach is 7.73 metres, dig depth 4.89 metres and maximum dig height is 8.84 metres. Minimum ground clearance is 440mm.
The larger HX220L crawler, pictured here, is a 22 tonner, powered by a Cummins QSB6.7 turbocharged air-cooled diesel engine that delivers 833Nm of torque of at 1500 rpm. It is 3.2-metres high with an overall length of 9.53 metres and width of 2.99 metres. Its tail swing radius is 2.84 metres. With its two-metre arm the maximum dig reach is 9.14 metres and dig depth is 5.82 metres. Maximum dig height is also 9.14 metres while minimum ground clearance is 480mm.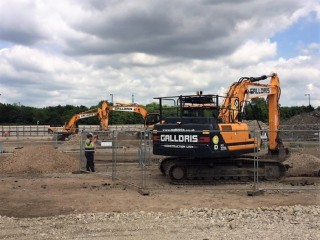 Craig Brown says that he is happy with the performance of both the Hyundai excavators and the after-sales back-up and servicing he has been getting from the Molson team. "The Hyundais have come a long way since the first 14-tonner we had," he says. "We have stuck with them because the machines have been well backed up by both Molson and Hyundai themselves."
He adds: "We have a mix of machines. Our fleet isn't 100% Hyundai but we have been more than happy with the machines we have had. It's because of Molson that we keep going back to Hyundai. The amount of effort the Molson team put in to make the deal work is remarkable. They know what they are talking about, they understand the machines. They help make life easy for us which in turn helps us in our work."
Although called ODG Plant Hire, to date it has only supplied machines to Galldris, the mothership, but it might soon be ready to start hiring out to others.
"It is something we are looking at," Brown says. "We have a large fleet that we could hire out to other contractors. We have hundreds of machines – everything from 23-tonne down to 1.5-tonne excavators as well as rollers, dumpers and most other pieces of equipment. We have been solely focussed on hiring to Galldris Construction and, although that will remain key, we may be looking at the opportunity to start hiring some of our equipment out to the wider market."