Salkhit Wind Farm, owned by Clean Energy LLC, is the first wind farm and also the first privately-funded energy project in Mongolia, which hasn't added any capacity to the central grid since early 1980s.
Hitachi ZX450
Located 70km southeast of the capital city Ulaanbaatar (or Ulan Bator if you prefer) the Salkhit Wind Farm will be powered by 1.6MW GE turbines. They reckon that it will offset 180,000 tonnes of CO2 emissions, save 1.6 million tonnes of fresh water and reduce coal usage by 122,000 tonnes a year.
Newcom Mining Services has supplied the majority of the equipment to main contractor Leighton Asia.
Genie telehandlers
Jalbuu from Newcom Mining Services said "It's a pretty challenging project, building a full-fledged wind farm where the highest point of turbines is some 120m. It's a structure that towers over tallest skyscrapers in the capital. The constant high wind (around 8-10m/sec) and harsh winter (as cold as -40C) made operating conditions pretty rough. The project involved a mix of Terex, Hitachi and Genie products. We supplied and maintained everything. On the colder days, to keep equipment warm, we used Thawzall H250 heaters throughout the winter."
For Jalbuu, the Terex AC200 crane was the main attraction - it is the largest rental crane in Mongolia, he says.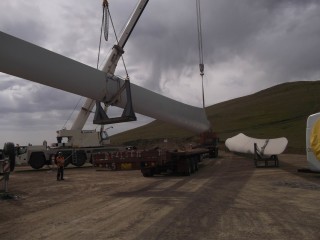 Terex AC200 Unloading the wind turbine blades
The Vermeer T-555 has also created some buzz, as this was the first trenching machine in Mongolia.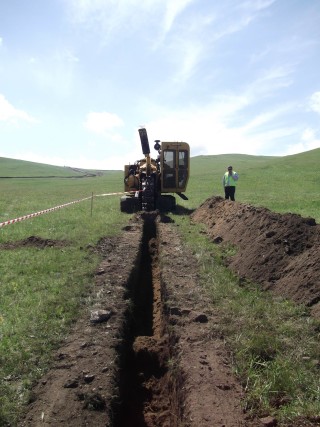 Vermeer T-555
Mongolians usually just use an excavator and backhoe. One of the smaller trenchers Vermeer makes, the T-555 struggled in some of the more abrasive, rocky soil due to its relatively light weight, Jalbuu says.
Vermeer T555 Trencher
Thanks for sharing this with us on The Digger Blog, Jalbuu.