On the New Holland stand were various examples of the new 200 series compact track loaders, including this C238 84hp model, shown equipped with a heavy duty mower attachment.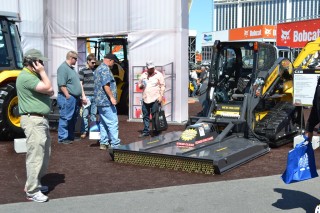 According to New Holland, these new models have been designed from the ground up, based on input from customers. These machines also feature the patented vertical lift Super Boom design, which offer better forward dump height and reach.
Over at the Kobelco stand were examples of the company's latest mini excavator range, including this 55SRX, which competes in the 5.5 ton market. These models are currently aimed at the US market.
Famous American brand Link Belt, were showing off their latest range of excavators, which are based on the popular Sumitomo machines. We see these machines in the UK branded as the Case B series, but the Link Belt models are called the X2 range. I believe there was an operator challenge being held on the stand which was topically called the X Factor!
Here is a fantastic shot featuring some Liebherr machines in the foreground, and a Komatsu PC350-8 in the background equipped with a crushing bucket.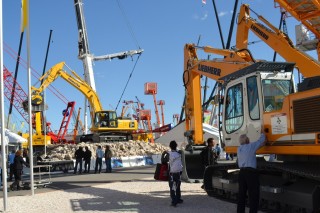 And a stunning shot of the Komatsu PC350-8 with crane mast's in the background.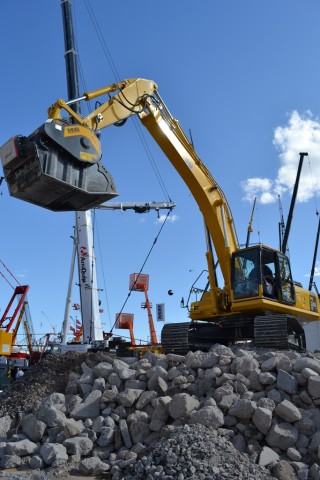 Something a bit different on the blog now, in the shape of this Liebherr LB36 piling rig. The largest rotary drilling rig currently available in the Liebherr range has an operating weight of 115ton.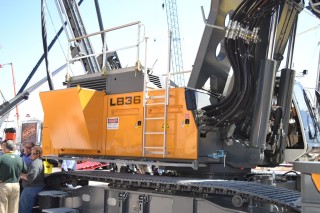 Powered by Liebherr's D846 L A7 476hp (350kw) engine, this machine can drill to a depth of 70 metres, with a maximum drilling diameter of 2,000mm.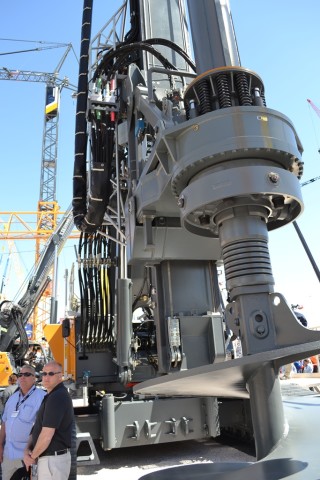 The tiltrotator concept continues to impress people around the globe and ConExpo was no different, with a whole host of manufacturers showing off their highly impressive work tools.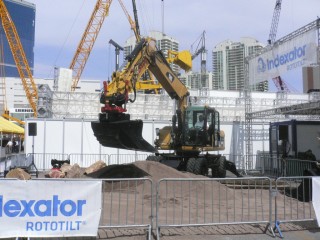 In this instance Swedish manufacturer, Indexator, one of the trailblazers of the tiltrotator attachment, showcased a system attached to a Caterpillar wheeled excavator.
Finally in this round up, we feature the stunning new crawler cranes from Chinese manufacturer Sany.
Sany had one of the largest stands available at ConExpo and used the event as part of a concerted effort to break into the North American market. The ambitious Chinese company have employed the skills of top American crane engineering veteran John Lanning, and his US design team, to come up with this new range of crawlers which include, the 300 tonne SCC8300, the 200 tonne SCC8200 and the 100 tonne SCC8100.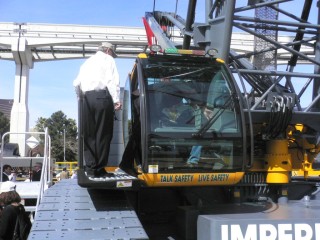 A stunning feature on the larger cranes is the spacious Ultracab, which was drawn up by the Porsche Design Studios, and includes a 25 degree cab tilt function for superb visibility at height.
To round up the Digger Blog's coverage of ConExpo 2011, here is a round up video from the exhibition team.