This package of eight machines coincided with the company's three year change out policy and is the third consecutive time Mullane has opted for Volvo branded machines. "We settled on our choice of product quite simply because of our long standing relationship and the overall package offered to us by Volvo," commented Managing Director Tim Mullane. "Furthermore our own experiences of running Volvo excavators, for the last 10 years in terms of productivity and reliability and the after sales support when needed, were strong influencing factors in our purchasing decision."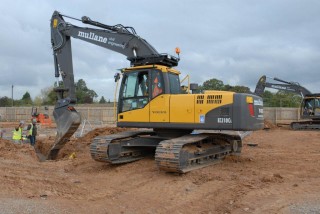 Opting for fourteen and twenty one tonne excavators once again fits in with the typical contracts T Mullane Ltd involves itself in - specialising in ground works for large school and university developments covering central England. And choosing excavators from Volvo has pleased Mr Mullane's machine operators who are each allocated to a specific machine. "I'm really impressed with my latest EC210C," says one of Mr Mullane's machine operators - John Neeson. "It's extremely smooth for grading and precision work and very responsive and of course the cab provides a high level of comfort so I'm pleased we've stuck with Volvo."
Volvo EC140C and EC210C excavators are powered by Volvo low emission Tier III compliant engines which are precisely matched to the hydraulic system's components and design. Developing 94 and 147 net hp respectively, an advanced mode control systemensures the maximum possible hydraulic horsepower available is delivered at a constant engine speed under varying load conditions. In addition, boom and arm geometry provide highly competitive digging forces and lifting capacities, which makes for faster work cycles. Hose rupture valves are fitted as standard to the boom and dipper cylinders as are quick fit hydraulics and a hammer/shear service.

As with all Volvo excavators, the hydraulic system is designed to function with low operator effort and high precision. To achieve maximum efficiency on a full range of job applications, the system is designed with four power modes that respond automatically to the operator's joystick movements. The boom, arm and slew priority system, boom and arm flow regeneration, and two variable displacement piston pumps enhance the system's performance, giving high slew torque, powerful digging forces, and fast digging and slew speeds. These features translate into faster cycle times and more efficient operation.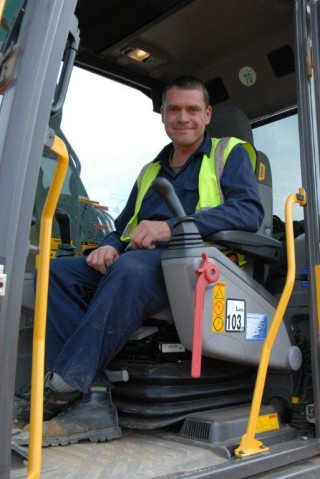 All eight machines supplied to T Mullane Ltd have been equipped with Volvo's 'CareTrack Advanced' telemetric monitoring system. CareTrack provides operational data remotely via the internet, including fuel consumption and idle time, all helping to reduce cost of ownership and maximise utilisation. The machines are covered by Volvo's Blue level service agreement.
T. Mullane Limited specialises in ground work and civil engineering projects trading as a limited company for over 25 years and during this time have grown in a controlled, organic manner currently employing around 50 dedicated and experienced personnel including quantity surveyors, contract managers, engineers and site operatives. Based in King's Norton Birmingham, the company takes on contracts within central England.