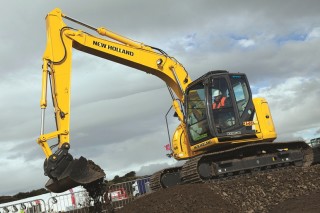 The E140C SR This has New Holland's integrated noise and dust reduction system (branded as iNDr) which minimises noise, optimises cooling and maximises particulate filtration.
Also look out for the top-of-the range L230 skid-steer loader, which delivers 340Nm of torque at 1400rpm and can mount large buckets of up to 0.58m capacity. The vertical lift Super-Boom enables operators to place material right up to the centre of the truck bed, so that it can be loaded or unloaded much faster from one side.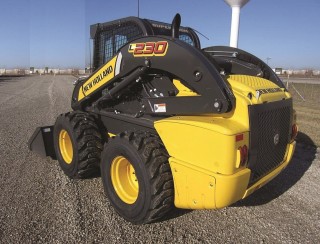 Other new machines on the New Holland stand, will be the 15-tonne WE150B PRO wheeled excavator, designed to be economical and efficient and the W170 Recycler. The latter has New Holland's cooling system design, where radiators form a box rather than the traditional approach of having them overlapped.
New Holland says that this improves cooling efficiency as well as making it easier to clean the radiators. In addition to the new introductions, New Holland will also be showing the E215C, which it bills as "the most fuel efficient 21-tonne crawler excavator available in the industry" thanks to its selective catalytic reduction (SCR) technology and hydraulic system. It drinks between nine and 13 litres an hour, depending on the application.
Lots to look forward to here, you will find New Holland on stands L22 & L24. If you don't have tickets for Plantworx 2013, click here to register FREE