According to Case, the new joystick controls on the 836C and 856C graders give improved blade control.
The electro-hydraulic joysticks are built into adjustable armrests on each side of the operator's seat. Each joystick has multiple roller switches and push buttons to control the working hydraulic and steering functions. The redesigned side console now contains additional switches that allow adjustments to the system as per the operator's needs.
The new joystick steering allows the operator to steer the machine using the left hand side joystick. All steering commands, including turning the front wheels, moving the frame articulation and setting the wheel lean are available through the joystick.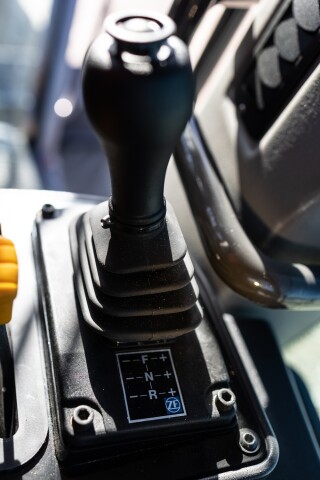 The RTC function, which is also new, allows the operator to return all steering commands back to the centred position by just pushing a dedicated button. This allows the operator to control the machine without having to take a hand off the joystick levers.
Comfort Steering, when activated, reduces the number of steering wheel turns required to fully turn the machine. This improves fine control of the steering wheel, Case says, and makes it easier to complete a full U-turn, with just a small turn of the steering wheel.

Combined Steering brings together the various steering commands into one control function. Once activated, front wheel steering, frame articulation and wheel lean work together as the operator turns the steering wheels or moves the joystick. This provides the operator with the ability to make narrow turns without having to think about which steering command to use individually.
Additionally, with activated TwinLift, operators have the possibility to move both lift cylinders by using just the right-hand joystick. TwinLift makes it easier for the operator to correct the mouldboard (blade) position without having to work both joysticks. This feature also assists the operator, when grading a wider slope, as the operator can simply lift the blade with one joystick to reposition the machine for the next pass.
The 836C has an operating weight of 11.7 to 12.8 tonnes, 102/115kW dual power and a mouldboard width of 2,440/3,050/3,355mm.
The 856C has an operating weight of 15.0 to 16.7 tonnes, 129/142kW dual power and a mouldboard width of 3,350/3,665/3,960mm.
Both machines are powered by the FPT Hi-eSCR2 (EU Stage V) engine.