The modern telescopic handler is one of the most essential pieces of kit on any construction site, a true workhorse that often gets taken for granted. As part of a continuing upgrade of its telescopic handler fleet, this new Manitou MT 1436R which was supplied by R&D Machinery Ltd of Totnes has recently replaced an outgoing model on the Charles Church development in Bideford, North Devon.
Powered by the popular 95 horse power Perkins diesel engine, the French manufactured MT1436R has a lift height capability of 13.52 m and features a forward reach with stabilisers down of 9.42m. With a one ton load on the forks the machine is capable of extending out to 8.65m.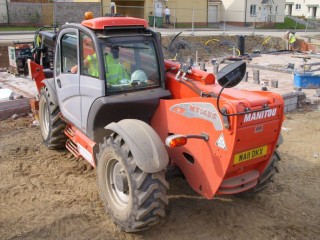 The MT1436R has a torque converter transmission with 4 forward speeds and 4 reverse speeds with a maximum top speed of 25km/h. This transmission also features soft shift adjustment as standard, this enables the operator to move off smoothly without the risk of losing the load and is also a big help when placing the load which can be done to the nearest centimetre.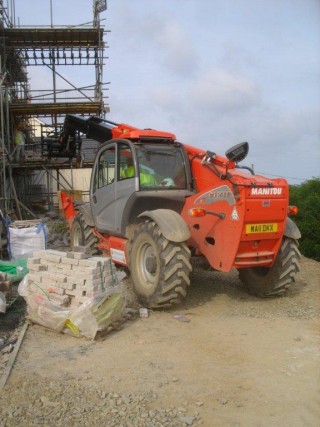 The Manitou Privilege cab certainly looks a nice place to be in terms of comfort and ergonomics inside. Space in the fully air conditioned cab is increased to 2m3. Inside cab noise level is down to just 79db and with the fully adjustable seat and adjustable steering wheel operators of all sizes will feel well and truly comfortable.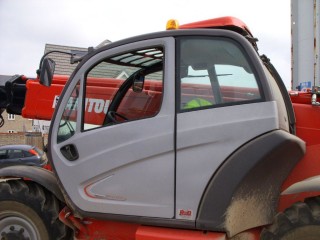 Looking like a joystick from a modern fighter plane is Manitou's (JSM) Joystick Switch & Move control which is a standard fitting on the range. Described by Manitou as offering "every movement in the palm of your hand", the proportionally controlled joystick offers the operator even greater control over the machine. The joystick also features a reversing gear so the operator can keep his left hand on the steering wheel at all times.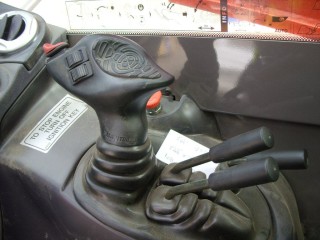 Long gone are the days when as an operator you have to get out and slide the forks into position for each different pallet, something that used to annoy me immensely whenever I spent time on forklifts in the past! On today's modern variants, fork adjustment is performed remotely from inside the cab with the deployment of hydraulic rams to move the forks into position.
In summary yet another impressive handler from this long established French player.