The new machines replace respective B series Volvo's which were originally purchased second hand and have proved their worth for proprietor Mark Wang and not least their residual values. "Making the initial investment in purchasing second hand Volvo equipment has paid off and given us the opportunity to re-invest in new equipment for the fleet," says Mark Wang. "The build quality of the Volvo is ideal for the typical applications we undertake and we've enjoyed good reliability and when it's needed, good support from Volvo's Stirling support centre."
Volvo EC140C and EC210C excavators are powered by Volvo low emission Tier III compliant engines which are precisely matched to the hydraulic system's components and design. Developing 94 and 147 net hp respectively, an advanced mode control systemensures the maximum possible hydraulic horsepower available is delivered at a constant engine speed under varying load conditions. In addition, boom and arm geometry provide highly competitive digging forces and lifting capacities, which makes for faster work cycles. Hose rupture valves are fitted as standard to the boom and dipper cylinders as are quick fit hydraulics and a hammer/shear service.

As with all Volvo excavators, the hydraulic system is designed to function with low operator effort and high precision. To achieve maximum efficiency on a full range of job applications, the system is designed with four power modes that respond automatically to the operator's joystick movements. The boom, arm and slew priority system, boom and arm flow regeneration, and two variable displacement piston pumps enhance the system's performance, giving high slew torque, powerful digging forces, and fast digging and slew speeds. These features translate into faster cycle times and more efficient operation.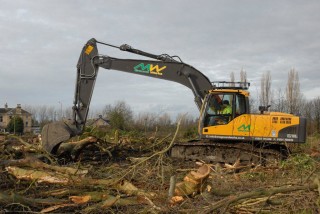 Covering the whole of Scotland but mainly throughout the Central Belt MW Groundworks specialises in ground clearance including tree felling, mulching, forestry work, general landscaping as well as minor civils projects. Established by Mark Wang 20 years ago, the company now employs 25 staff and operates a wide selection of heavy duty equipment including excavators, mulchers, high horsepower heavy duty tractors and dumpers.