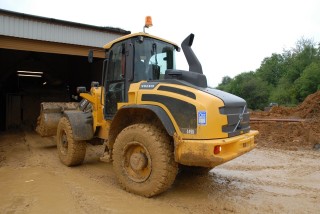 HG Matthews is the only brick producer using a biomass heating process for drying clay prior to firing in the UK and is pioneering the use of raw timber as the fuel source for firing its bricks. The company provides bespoke styles and colours of brick for new house builds, renovations and extensions to fulfil local planning consents.
Its new Volvo L45G wheeled loader has been supplied with three identical 1.2m³ rehandling buckets which are dedicated to the three main types of clay arriving at the stock yard. By utilising the Volvo attachment bracket, swapping buckets is very simple and saves a good deal of time 'de-contaminating' from one material to another.
Central to the design of the L45G is the way the engine is transverse mounted, enablign the engine hood to be sloping to give the operator a nice clear view al around.
The engine's output of 100hp is matched to the hydrostatic transmission allowing full power shift under load when changing direction and between speed ranges. As with its bigger brothers in the range, the L45G sports a Torque Parallel (TP) loader linkage that provides parallel lift, high roll-back torque and good lifting power throughout the lift cycle.
The L45G also has separate power steering and load-sensing hydraulic pumps. The advantage of this is that separate pumps ensure full steering power is achieved, regardless of the load on the main hydraulic pumps. Oil flow on the load-sensing pump automatically adjusts to match work demand. The result is lower fuel consumption during lighter work, Volvo says.