By this time earthworks were now in full swing with a bulk of the material being excavated from the Innis Downs end of the job and distributed by 40 ton Cat and Bell dumptrucks in the lower lying areas, in a classic cut and fill operation along the 7 mile stretch of the road. The initial large excavator of choice at the Innis Down (Bodmin) end of the job was an old Komatsu PC600-6 model.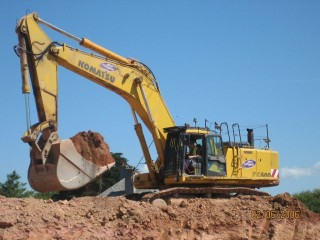 This older machine proved to be a bit problematic and so a brand new Komatsu PC600-7 was delivered to take over the bulk excavation work, the trucks were running flat out for 12 hours a day, 7 days a week during the summer months, and a lot of progress was made by McAlpine's highly experienced muckshifting team during the good weather.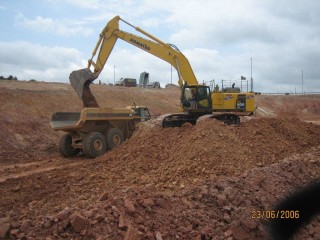 Personally I was still heavily involved in the digging out and shaping up of a large number of ecology lagoons, that were to be constructed alongside the route of the new dual carriageway to support the various species of wildlife that are in abundance in this area. This job in itself was not easy as we were often working in boggy marsh areas that are common place in that area. In one particular field we had a lot of problems with soft conditions. One of the dozer drivers figured he could doze out the bulk of material with his Komatsu D65EX, a move that ended as I predicted, with one well and truly bogged dozer.
I crept in with the Volvo EC210 to assist in the extraction of the stricken Komatsu, and after a bit of digging, pulling and tugging, the machine was brought back on to something resembling terra-firma.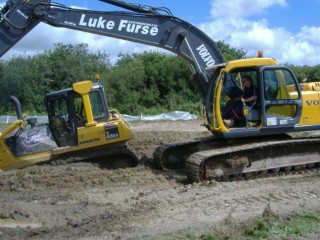 But our problems didn't end there, once we started excavating for the lagoon, our assigned 25 ton Terex TA25 ADT encountered another soft spot, and it soon became clear we were going to have to find a different way of tackling this job.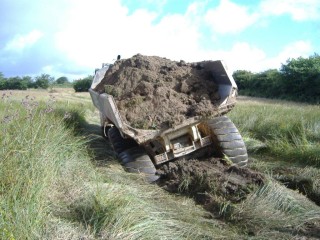 In the end another excavator was brought in and we worked in tandem hay-making the excavated material to a position where it could be loaded onto trucks without the risk of them becoming bogged.
Elsewhere on the job, trimming up of batters and shaping up around the bridges continued unabated, with this little Cat D4LGP, another machine on hire from Devon based Luke Furse Earthmoving, proving to be a very useful tool in the arsenal.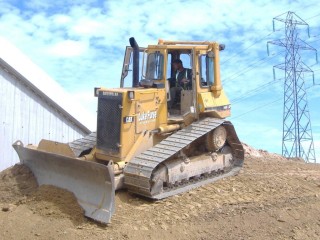 Another machine from the Furse fleet, was this Volvo EC210B operated by highly experienced operator Alan Gliddon, who has worked for the same company for nearly 30 years now, a truly staggering long service commitment to one company and something that is extremely rare these days.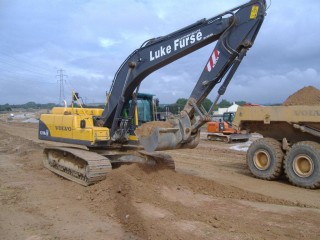 Alan Gliddon was often put to work carving out some of the most complex batters around the many underpasses which were constructed to enable farmers to move their stock from one side of the dual carriageway to the other. Some of his work was quite simply stunning, and I recall talking to Mr Luke Furse about his top operators work and he said, "Alan only has to look at a job and its right" High praise indeed and very justified in my opinion.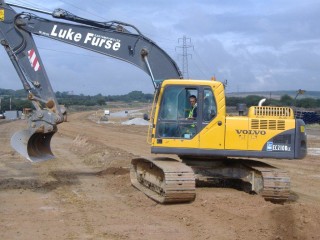 Meanwhile, some of the motor graders on site were trimming up along the course of the dual carriageway in preparation for laying down the sub-base. Two Cat graders were used, with a 12G which was owned and operated by a chap from Bristol, and a larger 14G which were kept very busy as the final preparations continued.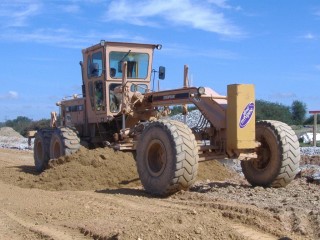 At this stage in the job, I was getting itchy feet and the long hours, plus the travelling either side of the shift were taking their toll. So I was delighted when I got a call about a new site starting up in the Millbay area of Plymouth, for London based Ardmore group, whom I had worked for previously in the same city. I will write about that job and where I moved onto after that in part 11.