RK Plant Engineers was established in Stockport in 2015 by the father and son team of Ryan and Kenny Andres. They specialise in installing machine control and safety products including rated capacity indicators (RCIs), height & slew limiters and machine guidance systems.
RK Plant is accredited as an authorised GKD installer. Ryan Andres manages the company's operations and travels around the country installing the various safety systems.
"Since we began working with GKD two-years ago we have installed in excess of 100 RCIs and height and load limiters," he says. "GKD has kept us very busy. The majority of our installations are for the civils sector, but we also provide a maintenance service for GKD systems in the rail sector."
RK Plant's most recent installation was for a GKD 1HL height limiter for EPC Civil Engineering, a new customer. Ryan Andres completed the job withing 24 hours of receiving confirmation of the order, adhering to all the social distancing and hygiene rules of the Covid-19 lockdown.
"EPC Civil Engineering contacted us via a LinkedIn message and wanted a height limiter installing the next day on a Doosan excavator for an urgent job – fortunately I had a GKD 1HL in stock and was able to fit it the following day," he says. "Of course, all safe distancing procedures were followed, in line with all of the installs I have carried out since the Covid crisis began."
EPC Civil Engineering is a family-run drainage, civils, and plant hire firm operating nationally from bases in Northwich and Donington. The company is headed by Eugene Crilly, who contacted RK Plant Engineering.
Eugene Crilly says: "Since the Covid pandemic we have had a number of sites closed but have managed to work safely albeit at a greatly reduced capacity. We are due to install a sewer diversion directly under overhead mains power lines and adjacent to a pylon – therefore the restrictors are essential."

He continues: "The reason I chose GKD is that I have used GKD on hired plant before and the brand is renowned as the industry leader. The service I received from RK Plant Engineering was exceptional. I spoke with Ryan around 7pm the evening before and he was on-site at 8am the following morning. All the works were carried out and an onsite tutorial was issued before midday – I really couldn't have asked for more."
Not all installations are so straightforward… as Ryan Andres recalls: "One of the most unusual installs I have personally carried out was installing a GKD 2RCI load indicator with motion cut, which I fitted to a Sennebogen 875M special port material handler for Forth Ports in Scotland. The machine was a monster, weighing in at almost 100 tonnes. The cab on the machine extends outwards, so all the cables for the system had to be run through the cab to enable it to extend, so instead of hydraulic motion cuts I had to install electronic motion cuts. The calibration took slightly longer than usual – but the install was seamless."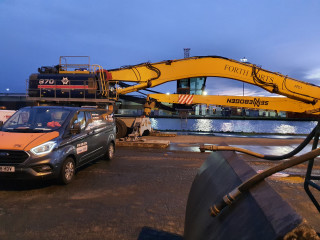 Another out of the ordinary job for RK Plant was on a Case 580 backhoe loader for the Environmental Agency, where Ryan Andres fitted two GKD height limiters to the same machined.
"I fitted a height limiter on the front loader arm of the machine and another on the rear backhoe," he explains. "The front height limiter I had to use high-pressure valves and, on the rear, a standard valve. This was the first time I had ever fitted two of the same systems to one machine."
He concludes: "The GKD systems can be modified to suit many different variations of plant and machinery, which is why the brand is a market leader in civils and the preferred RCI for many hire companies and contractors. The systems are also extremely user friendly and reliable.
"Once the current Covid-19 situation has abated, and the industry begins the journey to recovery, we are expecting a spike in demand for GKD systems, particularly with HS2 getting the green light and other key infrastructure projects."