His choice of Volvo for the 14-tonner was down to not just machine performance but also the support he has experienced with the UK distributor SMT GB.
"In 2005, I decided to venture forth on my own and was offered a very good deal on Volvo's 16-tonne machine," he says. "I really liked my Volvo but when it came to changing, I went elsewhere at the time.
"However, I'm pleased to be in a position to return to buy the latest EC140E model – the machine is well built and a premium product in terms of performance, specification and build. Ultimately though, it's all down to the aftersales support and service and the main factor for us choosing Volvo."
The new EC140E, pictured above, will be deployed on all manner of operated hire and contract work with Ken Marsh's core business working with TVO who work for the Environment Agency on flood defence and drainage projects on and around the Somerset Levels. In addition, the machine will be deployed working for the Somerset Drainage Board on maintaining drainage ditches – called rhynes in Somerset – as well as groundworks for the preparation of laying concrete slabs and the erection of formwork for agricultural and commercial buildings.
Large recent works have involved flood defence works as a result of the major floods in 2014/15 and the development of the new Steart Marshes Wetland Reserve for the Wildfowl Wetlands Trust at Steart Peninsula.
"We pride ourselves on offering a complete service to our customers – this includes utilising our own personal knowledge of the locality and the lay of the land along the Somerset coastline and on the Levels," says Ken. "To this end, we have specified our new EC140E to a high degree which includes a rotation circuit, additional lighting, 360° visibility and a Prolec safe load indicator, besides the standard features such as hammer/shear hydraulics and hose rupture valves. The machine also has bio-oil installed which is appreciated by our main contractors."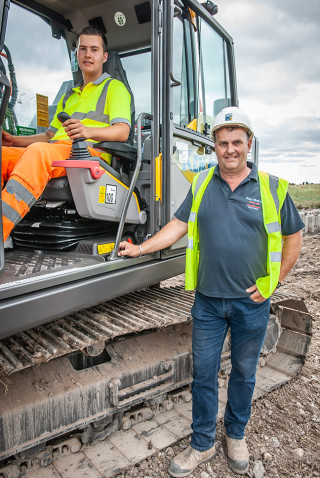 Operating and looking after Ken Marsh Plant Hire & Groundworks' new EC140E has been entrusted to Ken's son, Lee, who joined the family business full-time last year. They are pictured together above.
Lee is fastidious and keeps the cab so spotlessly clean that he removes his work boots on entering the cab and keeps his cleaning kit with the machine at all times.
Ken has just carried the Volvo brand name into his business even further with the purchase of a Volvo beavertail truck to transport his new EC140E excavator. The lorry, although not an artic, can carry up to 27ft in length and has the capacity to carry up to 19.75 tonnes, making it ideal for moving his excavator and enabling him to offer a haulage division within the company, transporting for other working/hire companies within the construction industry and offer transport into sites where articulated access is not possible.