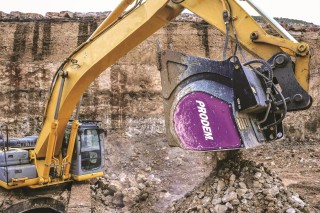 The PCB Prodem Crusher Bucket is designed to crush and convert waste material including brick, concrete, rock and wood, into reusable hardcore or infill, directly on site.
Suitable for excavators from eight to 55 tonnes, including, skid steer and backhoe loaders, it will be available to hire or purchase from BPH Attachments from the second week of 2020.
The bucket has a patented auto-reverse crushing drum with BPH reckons can increase productivity to anything between 34 to 45 tonnes per hour on-site by reducing operator input and increasing use of site machinery.

Features include intuitive jaw adjustment, high displacement radial piston hydraulic motors, wear resistant teeth, and easy forward-facing or reverse-facing loading.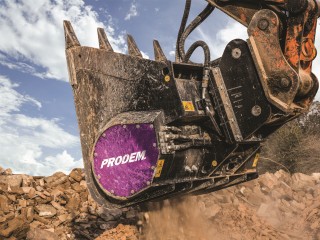 BPH Attachments sales director Matt Bastable sayd: "We're always looking for innovative products to add to our ever-expanding range, and our attachments portfolio has now increased by 35% in the last year alone. With further announcements due in the not too distant future, it's an exciting time for the BPH Attachments."