Allistair stumbled upon this 1971 vintage JCB 8C, on a dairy farm around the outskirts of Bussleton, one of South Western Austalia's top towns for tourism. This particular old beast has had some major alterations done to it over the years, including the replacement of the original 6 cylinder 135 hp Perkins engine, with what looks like an early Detriot Diesel engine complete with twin exhaust stacks!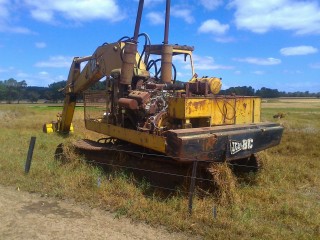 I have not been able to find out the actual production figures for this particular model, but I believe that not many were built, and this is what I find so interesting about this find. Just how did such a rare model find its way down under to Australia?
Introduced in 1971 the 8C/8D was the largest excavator in the 4 model JCB range, which had evolved from the American Warner and Swasey Hopto designed machines. In its heaviest guise when fitted with 762mm track plates it weighed in around 23,513kg (51,836lbs) with a dig depth of 6.73m (22ft 1in) reach of 9.73m (31ft 11in) and a load over height of 6.10m (20ft). The 8D was identical to the 8C except for being fitted with an extra wide undercarriage for more stability.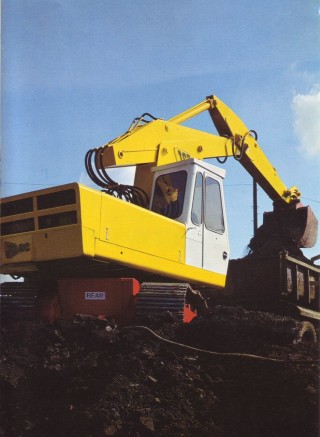 The JCB 8D was also offered with a face shovel option, which was promoted as the "Scooper" as seen in this classic photo courtesy of our friend and machinery aficionado Jeremy Rowland.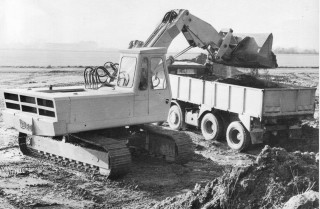 The production run of these two models was fairly short, with the 8D being phased out in 1973, followed by the 8C the following year. There is very little information available about these old excavators, but whilst researching for this post I came across this excellent Contract Journal front cover advert for the JCB 8D on the top classic plant website Classic Machinery Network and could not resist including it in this post!

And finally to finish off, a brochure front cover scan that was kindly sent to us by the team at JCB, whom we kindly thank for their assistance in the compiling this post.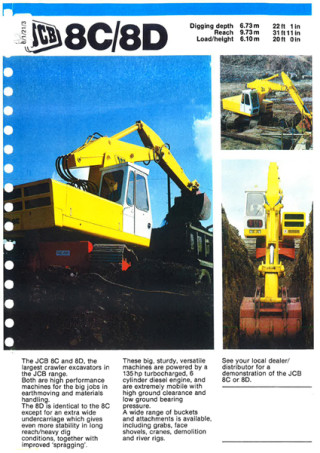 If you have or know of the whereabouts of any classic machines lying dead or alive we want to hear from you! Contact me at the usual digger email address.