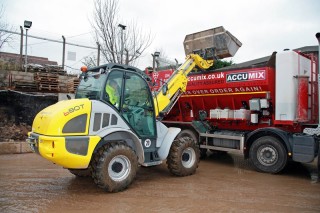 There is something about the styling that is so uncharacteristic for a German manufacturer. They look more French or Italian to me.
Pictured above is a Kramer 680T, the latest of four Kramer wheeled loaders operated by West Midlands readymix company Accumix Concrete.
Accumix studied all the wheeled loaders on the market and decided to standardise on Kramer machines as it reckons they offer the best combination of manoeuvrability and stability thanks to their rigid chassis and all-wheel steer layout. In addition, the telescopic boom versions chosen by the company makes it easy for the operators to load aggregates cleanly into the hoppers of their mobile mixers.
Accumix has a Kramer based at each of its depots in Kingswinford, Bromsgrove and Sutton Coldfield, plus a spare for contract work, but it is the new 680T based at Kingswinford that performs the lion's share of the work, handling up to 300 tonnes of material every day to keep pace with the output of eight mobile mixers.
The 4-wheel drive 680T is powered by a Deutz diesel engine developing 58kW (79 hp) coupled to Kramer's latest high-pressure hydrostatic transmission, which provides up to 23% more tractive force than the previous model, the manufacturer says. It can lift 2.3 tonnes to a height of 4.68 metres.
And pictured below is a Kramer 1245 compact telehandler that is used by Monmouth-based Monnow Marquees for handling concrete blocks that it uses for tie-down weights. This pocket dynamo is just 2.92 metres long and 1.56 metres wide but can lift 1200kg to a maximum height of 4.3 metres.