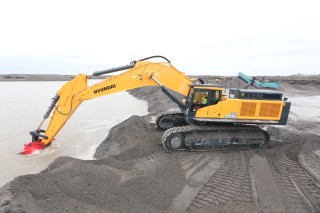 No surprise, then, when the County Offaly company, run by father and son Donal and Mark Walsh (pictured below), took delivery of the first Hyundai HX900L excavator to enter service in Ireland.
The 90-tonner was supplied by Whelan Plant Sales, based in County Clare.
The new HX900L has been put to work recovering gravel from lagoons in Derryarkin, close to Rochfordbridge in Westmeath. It has joined a working fleet dominated by Hyundai machines, working collectively on gravel recovery, production, loading and pit development.
Donal Walsh says: "I travelled to see a HX900L working in the UK and even though it was in a much different application to ours, I immediately knew it was the right machine for the job. I agreed the specification with George Whelan, and he put an attractive deal together without delay."
He has not been disappointed. "The digging power with the HX900L is excellent and it's a really smooth machine to operate," he says. "To get the most out of a machine like this with the kind of reach it offers, stability is very important, and I see it as being first class since it's so well balanced over the whole working range."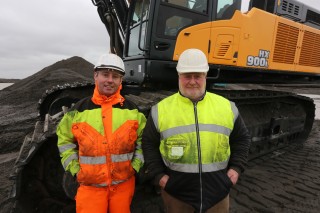 He adds: "Based on the speed of its boom and slewing movements, it's hard to believe it's a ninety-tonne excavator. This was already noticeable on the HX480L, but I am surprised at how fast the HX900L actually is, since machines of this size are usually more about capacity than speed, but this has both with first-rate comfort and smooth controls."
Incorporating the longest possible boom specification, without moving up to a specialist long reach boom configuration, the machine has been delivered with an 8.2-metre mono boom and 4.4-metre dipper arm. When allied to a directly mounted bespoke bucket produced by Tighe Engineering, with cooperation from Donal Walsh and Whelan Plant Sales, the machine offers a maximum digging depth of 9.6 metres while yielding maximum reach at ground level of 14.43 metres.
Bucket capacity is close to six cubic metres thanks to its wing shields. Stability has been aided by the fitment of the optional heavier counterweight, which weighs in at 16.5 tonnes. The long undercarriage running on 700mm-wide double grouser track shoes gives an operating width of 4.2 metres.
Despite the high power rating of 478 kW provided by the Scania V8 engine, it is less thirsty than its similar-sized predecessor on site.
"For a machine in this size class, the fuel consumption is already quite low and without even been run in just yet is using four hundred litres per day," Donal Walsh says.