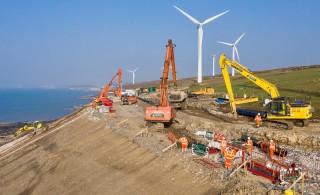 The £4m stabilisation project is using specialist machinery on the steep coastal slope at Lowca.
As well as Murphy, Flannery and Kelly Earthmoving are involved in the endeavour.
Tony Butler, route asset manager for Network Rail, said: "The removal of such vast amounts of soil is a huge task in a challenging location, but is vital to help keep trains running on this economically important route."
In November 2018 a small section of the Victorian-built embankment collapsed after becoming saturated from water running off the surrounding landscape. This meant delays on the railway between Carlisle and Whitehaven.
The embankment upgrade is part of a wider £8m Network Rail investment to improve the Cumbrian coast line, following an overhaul of three miles of track between Millom and Bootle last month. The railway line between Whitehaven and Bootle will also be renewed in the summer.

The photos here are courtesy of Murphys.