Over the years I have been lucky enough to operate a wide range of excavators, during that time I have spent many a happy hour at the controls of mini excavators. When first introduced back in the late 1970's, not many took them seriously, suggesting that the concept wouldn't really take off, and that the mini marvels would simply be a passing phase, how wrong they were! Today the mini/midi excavator market is one of the busiest sectors in the industry. My first encounter with the mini excavator's was in the early 80's, when I operated a Komatsu PC20. But my favourite machine at that time, was Komatsu's 6 ton class PC60, of which I operated a number of examples from local hire company's in the Hampshire area.
These original Japanese machines were awesome little tools for housing site work, featuring a 4 cylinder Komatsu 4D94 engine, which pushed out an impressive 50hp. They were also incredibly fast and smooth to operate and featured all the creature comforts one now takes for granted in an excavator. In the early 80's, in my neck of the woods, the Komatsu range was aggressively marketed by Selwood's plant sales division, with their top salesman John Knight, often winning awards for sales in the area. The machines were also supplied to the company's hire fleet like this example out on site.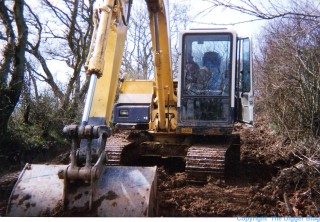 Another good machine with a Japanese background was Caterpillar's E70 model. These early E series models came into being following the 1986 joint venture between Mitsubishi and Caterpillar, and were marketed prior to the launch of the 300 series around 1992. I only spent one week on one of these models, but I did spend a considerable amount of time on original Mitsubishi MS range excavators, including the larger MS120 & MS140 models. Both of those machines were excellent work tools, which were a pleasure to operate.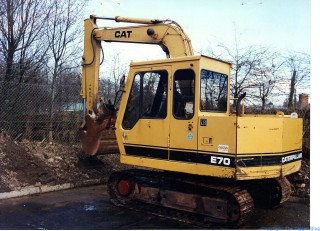 In 1995, I was told I would be getting a replacement machine for an ageing Hymac 580D, I had been operating on and off for some 9 years! Despite my pleas for a well know Japanese orange coloured brand, I was given a new Komatsu/Fai PC95, which was a 10 ton class machine. This machine which had its roots from the Italian Fai company, was not a patch on the original PC60 models I mentioned earlier, being rather slow, cumbersome, and rather hard work to grade with. In its defence however, it was a powerful little machine in the dig, with its Rexroth hydraulics and Perkins 1004.4 72.4hp engine, combining well to provide the power.
Moving on now, another machine I owned was this Hanix H26B. Hanix excavators have always been a good quality product using well proven and reliable Japanese components. Admittedly they are rather basic no thrills machines, but in my opinion they are just as good as any other make on the market. Hanix appear to have dropped off the radar here in the UK at the moment, but I believe they are still selling them direct from the Manchester facility that I reported from for the Digger Blog a year or so ago.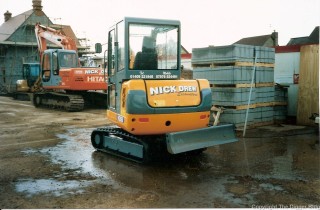 Finally in this batch, a Case CX35 machine that I used to do some garden improvement work for some friends some years ago. These models were based on Kobelco machines following the global alliance formed between Kobelco and the CNH group in 2001. Earlier Case mini excavator models were badged Kubota machines, all using well proven Japanese components.