Tony Wagner is a young plant & machinery entrepreneur who rarely takes his eye off the ball in terms of what kit his customers are looking to hire-in from his company. The recent prominence of the 8 tonne midi excavator on sites up and down the country has not gone unnoticed by Mr Wagner, and with many of his customers requesting the popular-sized machines, he has realigned his fleet to include his latest acquisition, a Caterpillar 308E, which he has purchased from the plant sales division of WH Bond Ltd.
Like so many people in the plant game in the southwest, Mr Wagner has a great relationship with the team at WH Bond, describing them as "great people to do business with", as such it was an easy decision to make when it was time to do a deal on the new 8 tonner. The idea was to trade in two machines from his existing fleet, comprising of a Volvo BL71 Plus backhoe loader and a JCB JS130 hydraulic excavator, which have both been out on hire on a self drive hire basis for some considerable time. A deal was struck with W H Bonds plant & machinery salesman Will Evans, and Mr Wagner became the proud owner of his company's first Caterpillar machine.
Mr Wagner, who is now in his 6th year of trading, said "I have wanted my own 8 tonne machine for some time now as I think they have increased in popularity enormously over the past 5-10 yrs. As I see it, they have now taken over from backhoe loaders on a majority of jobs where once the wheeled digger would have been the first choice".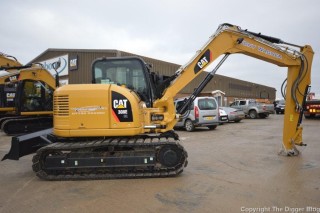 Mr Wagner continued: "I had done a fair amount of research on 8 ton machines, both from my own experiences operating various makes, and from what I had read in the trade press and on the internet, so I had a good idea about what I wanted from a machine. The price that Bond's offered me was good and the Cat has a good level of specification. With Caterpillar being a massive global brand, you just know you are going to get a well built machine with brilliant residual values when you come to trade it in, so as far as I was concerned it was a no brainer".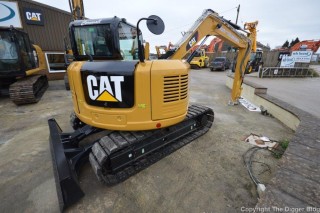 Tony Wagner's machine was just awaiting fitting of its fully automatic quick hitch when the Digger Blog visited the dealership, but it is expected to be delivered straight to its first site next week, where it will be working on a large solar panel installation job on the outskirts of Plymouth. Also on show during our visit, were a number of larger Caterpillar machines which will be joining W H Bond's own hire fleet, including a 20 ton 320E, and the first of four 13 ton class 312E excavators. It is planned to further augment the hire fleet with Cat machines in the future, including mini excavators, rollers, and telehandlers.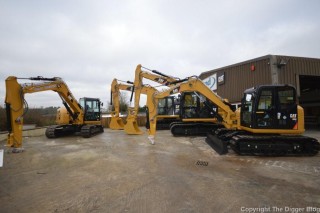 The Digger Blog wishes Tony Wagner all the best with his latest machine.