According to Robert, this old machine has been lying in the Stockholm area somewhere between Torshalla and Kvicksund for over nine years, and considering its age it's not in bad condition. What is so unusual about this machine is at first glance it looked like a TCS model, but on closer inspection we can see the number 70 painted on the engine canopy, in a similar style to the later 60, 75, and 90 models.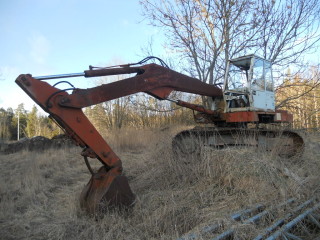 This was a mystery that needed investigating, so I made contact with our good friend Mark Gunns, a former Poclain employee in the UK, and Philippe Fritz, vice-president of Generation Deux, the association that was formed by former Poclain employees in France to preserve the history and machines of the onetime world leader of hydraulic excavator technology.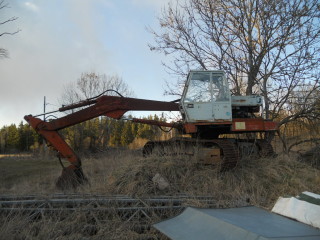 Philippe told us the machine is indeed a TCS model, which was probably sold around 1973/74. It was not likely to be a prototype model as both Mark and I initially thought, but would have been what Poclain called "a special adaption" model made specifically for the Swedish market.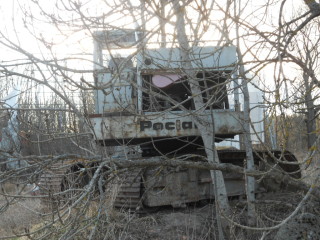 Philippe said "Our friends at the Poclain subsidiary in Sweden (Swenska Poclain), used to modify the units locally to make them more saleable in their country, they used to change the colour scheme to make them look like the new range. They also changed the TCS name to 70, which signified the rated horsepower of the model. They also modified the controls on these machines, replacing the regular 4 "piano" style levers with 2 joysticks for all digging actions and two short levers for tracking control as you can clearly see in this photo".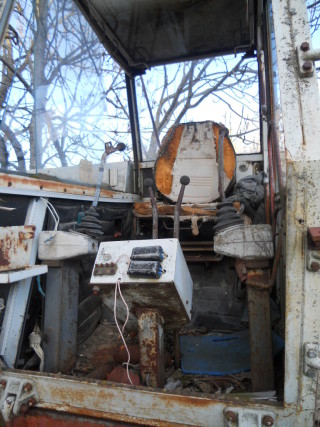 The first TCS models were built in 1965, with the last ones rolling of the production line around 1974. During the production run, the model had several significant upgrades. The S in TCS stood for "Super" with more weight and more power than the previous TC45 models.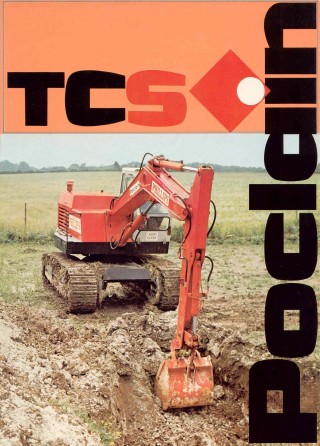 In many other countries this model was marketed as the 700C, with the 700 standing for 700 litre bucket capacity as seen in this marketing brochure.
Commenting on this old machine, Mark Gunns said. "The boom looks like it has been plated at some point, as there should be a torque tube in the mid-point in between the anchor points for the boom and dipper cylinders. If I remember correctly it was a 4.85m boom. The dipper is authentic, but a majority of TY's and TCS's that came into the UK were often fitted with grab arms for magnet or 5 tine scrap grabs"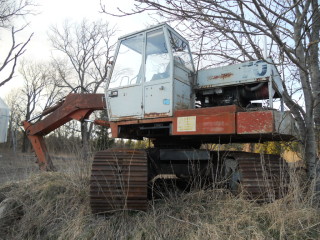 Robert Carlsson said "I would really like to save this old classic from the scrap yard, but sadly I just haven't got the time to spend on another old machine right now"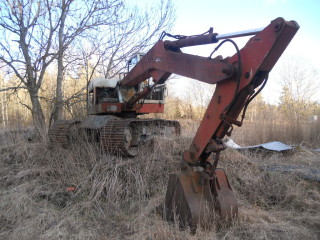 I wonder if anyone will step in to save this machine after reading this post, I for one sincerely hope so.