He looks a bit over-dressed for the job, if you ask me.
Read on below for the answer....
Yes, that's right, you guessed it of course. It's George Osborne, or Jeffrey, as Barack Obama and I like to call him.
The day after delivering his autumn statement the chancellor of the exchequer paid a visit to the workplace of one of his newest colleagues, Lord Bamford, at JCB Towers in Rocester, Staffordshire.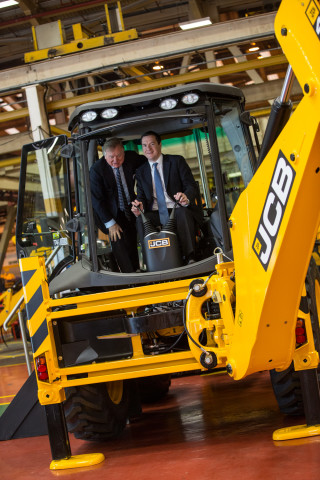 In a speach to the JCB workforce, Mr Osborne congratulate them on reaching a key milestone in JCB's history by selling its one millionth machine during 2013. Over half a million of these were backhoe loaders, a machine celebrating its 60th birthday this year.

The noble lord's son and heir Jo was on hand to help out with explanations of the inner workings of JCB's award-winning engines.
Then some damn fool let the chancellor loose with a tack welder. By all accounts, any damage was easily repaired. In the picture below, the guy on the left is Uttoxeter MP Andrew Griffiths, looking very nervous on the chancellor's behalf. The guy on the left, however, who is JCB welder Martin Cooper, appears to be rightly more concerned for his power tools than for the chancellor's welfare. "You break it, you buy it," he almost certainly didn't say.