Joining three existing Volvo L40 loading shovels, the slightly larger L45F was selected after giving consideration to the need for increased productivity around the plant in terms of loading bulk sided lorries and containers with pelletized china clay as well as sorting and blending the various grades of material being produced. "We needed to see how the larger loading shovel would cope in our sorting sheds and fortunately since we already run another L45F at our nearby Greensplat works we trialled the machine here at Trevalour,"said production manager Dave Perks. "The results were extremely positive and we were very impressed with the manoeuvrability of the L45F and the ease at which it could negotiate the tight turning areas within the works," he continued. "Furthermore we have had a long and generally good experience running Volvo shovels since the mid- eighties when we took our first Volvo 4200 loading shovel."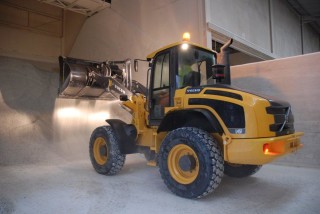 The L45F benefits from excellent all round visibility thanks to the design of the rear chassis with its sloping engine hood facilitated by the transverse mounted 4.8 Tier III engine and hydrostatic motor. The operator's environment has been recognised as a key factor in achieving high productivity and the Volvo Care Cab is at the forefront of delivering a high level of operator comfort. All the machine's controls and functions come easily to hand and air conditioning is of course standard. The engine's output of 100hp is superbly matched to the hydrostatic transmission allowing full power shift under load when changing direction and between speed ranges. As with its bigger brothers in the range the L45F sports a Torque Parallel (TP) loader linkage which provides smooth, parallel lift, high roll back torque and good lifting power throughout the lift cycle. The Volvo hydraulic attachment bracket facilitates the easy change over of attachments.

The Volvo L45F wheeled loader features separate power steering and load-sensing hydraulic pumps. The advantage of this is that separate pumps ensure full steering power is achieved, regardless of the load on the main hydraulic pumps. Oil flow on the load-sensing pump automatically adjusts to match work demand. The result is lower fuel consumption during lighter work – along with no compromise in performance when operating in tough conditions or demanding applications. Specifically for Goonvean Ltd, the new L45F has been equipped with a 1.8m³ general purpose bucket, reversible cooling fan, a Dustbuster filter for the engine air intake and a Prolec weighloader.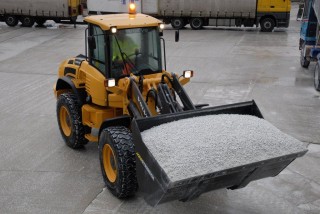 Established in 1932, Goonvean has remained privately owned by a Cornish family for over 70 years, utilising the natural resources found on the family's land. In 1995 Goonvean purchased additional reserves and doubled its capacity and today is the largest private kaolin, or china clay, producer in Europe. The company continues to invest in sophisticated 'state of the art' computer controlled kaolin processing facility with the current investment concentrating on new wet mining and separation facilities.