The event kicked off on the May 24th, with two press days and continues until June 15th. Customers, end users, dealerships and operators are treated to a stunning display of the company's latest equipment ranges at a purpose built 750,000 square metre demonstration site.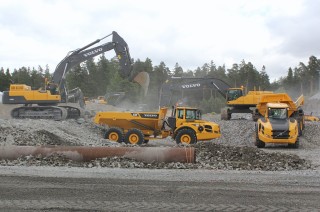 Volvo Days has been a popular fixture in the construction machinery show circuit for more than half a century, but due to the global recession the event had taken a break for the last two years, now according to my Swedish colleagues- it's back; bigger and better than ever!
The assembled crowd were treated to a demonstration which showcased many of the 90 Volvo Construction Equipment machines which are available at the visitor centre, including the latest D Series hydraulic excavators and F Series articulated haulers. There was also the ever popular "stick time" period, where visitors could get hands on with the machines, which is definitely my favourite part during these visits.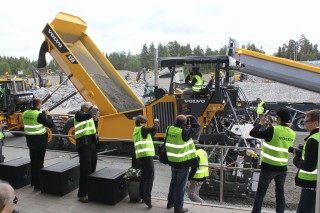 There are other interesting activities lined up for visiting guests to enjoy, such as sightseeing in Stockholm and also a visit to the Bollinder-Munktell Museum, which chronicles Volvo Construction Equipments illustrious history which began in Eskilstuna in 1832.
Here is a great video from Volvo CE which gives you a taste of the action.