Clambering into and out of construction machinery has often been one of the most hazardous parts of the plant operator's day. Muddy boots don't always grip
so well on muddy metal plates. Ever aware of the need to provide a clean and safe environment to work in, Volvo Construction Equipment has collaborated with Kocurek, the Ipswich-based modification specialist, to take safe cab access to a new level.
Quite literally a new level, in fact... ground level. With fixed elevated cabs not so many years ago, operators were expected to climb up structures varying between 2m and 3m above ground level to get to their work station. In recent years this problem has been addressed to an extent by hydraulic raised cab (HRC) offered by many manufacturers, but this is only half the answer to the question of safe access and egress.
Volvo and Kocurek, therefore, have teamed up to produce the Volvo Step Safe Cab. It retains the functionality of the regular HRC but also allows the cab to be lowered to ground level to provide safe access and egress for the Volvo and Kocurek have teamed up to produce an easy-access cab operator. The kinematics are similar to the standard HRC with the anchor point mounted behind the standard cab position on the superstructure. The significant difference is the modification to the standard superstructure to allow the downward movement of the cab and supporting linkage. Instead of you having to clamber up to the cab, the cab elegantly lowers itself down to you.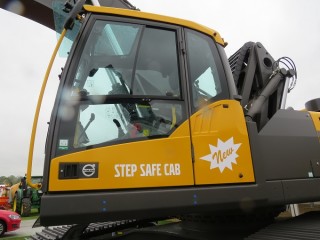 (The Step Safe Cab is lowered hydraulically to ground level for easy entry and exit)

All the normal functions of the HRC are retained, with built in safety devices. For example, the cab can still be lowered manually in the event of engine or hydraulic failure or if the operator needs emergency assistance. There is also a separate electric power-pack so that when the operator is leaving the machine unattended the cab can be returned to the original OEM position if desired, to prevent or minimise any accidental damage that may occur on site for example. The design is based on the EC480D but is available as an option for all Volvo GPE models of excavator, both wheeled and tracked from the EC220D upwards.
The Step Safe Cab is available in two variants: either with elevation just to the normal excavator cab position; or with full high-rise function for applications such as scrap handling or general rehandling, requiring full operator visibility from above. The innovative cab design is launched onto the market at the Plantworx trade show tomorrow (Tuesday 14th May 2013) , where it will be exhibited on the Volvo stand.
Register for Plantworx tickets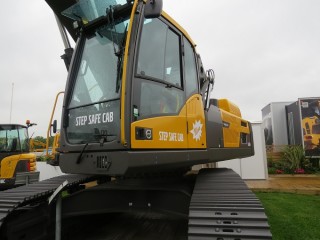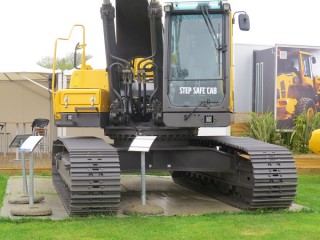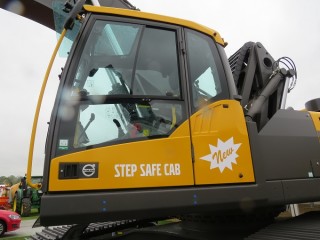 The cab reminds me of Volvo's futuristic excavator concept video, back in 2009.